David Cameron seeking to win argument on growth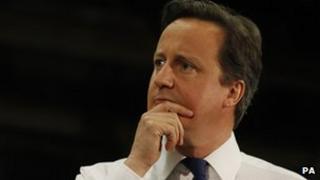 The Coalition believed that it was winning the argument on deficit reduction, but fears it is in danger of losing the argument on growth.
That is the principal reason for the prime minister's speech today and his insistence that there is no choice between austerity (bad and found wanting) and growth (new and potent). So, David Cameron claims that deficit reduction and growth are NOT alternatives: indeed, he argues, delivering the first is vital to securing the second.
Labour, of course, agrees with the analysis that both are important but says the evidence shows that the way the government has been trying to cut the deficit - too far and too fast - is precisely why we're now in a double-dip recession and don't have any growth. In this they are echoing the electoral pitch of Francois Hollande who pledged to increase spending in France by 20 billion euros, to recruit 60,000 more teachers and reduce - not increase - the pension age.
The government - keen as they are to mend fences broken by David Cameron's snubbing of Hollande when he visited London - say that they're perfectly happy to work with the French to have growth-boosting EU measures providing they're not re-visiting the policies needed to cut deficits.
In other words, if Europe wants to come up with new funds for the European Investment Bank to invest in infrastructure; if it wants to marshal some of its so-called structural funds for a scheme for youth unemployment - all these things they're perfectly happy to consider in Whitehall, but what they want to make sure is that there's no reduction to the planned speed or the depth of deficit reduction.
That is the central argument in British politics. The reason David Cameron is waging this today is the anxiety that after the local elections and a series of defeats for European governments - ten eurozone governments have fallen since 2008 - that he could be next.
The reason Labour are so desperate to respond to it is they think this is their one moment where they might be about to win the argument on the economy.