David Blunkett urges VAT tax break for guide dog food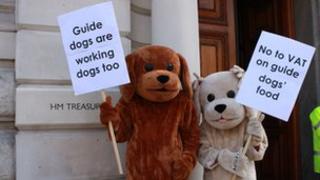 David Blunkett has thrown his weight behind a campaign to exempt guide dog food from VAT saying the issue is "far more serious than hot pasties".
Special high protein food eaten by racing greyhounds and other "working dogs" is VAT exempt.
But the tax break does not extend to guide dogs - costing the Guide Dogs charity an estimated £300,000 a year.
The former home secretary has called on the Treasury to reclassify guide dogs as "working dogs" for tax purposes.
The Guide Dogs for the Blind Association - to give Guide Dogs its full title - is angry that the Treasury appears to consider guide dogs to be in the same category as "pets".
Labour MP Mr Blunkett, who is accompanied everywhere by guide dog Cosby, a black curly coat retriever, says it is a greater injustice than the "pasty tax" - the levy on hot food that landed Chancellor George Osborne in trouble in his March Budget.
Toilet breaks
But his call for reform was this week rejected by Treasury minister David Gauke, who said HM Revenue and Customs definition of a working dog was based on the type of food it consumes rather than the role it performs.
And, he appears to suggest, there is nothing to stop guide dog owners buying high protein food if they want to benefit from the tax break.
"If this specially-formulated food is suitable for guide dogs and other assistance dogs, it will already benefit from the zero rate," said Mr Gauke in a written answer.
Guide Dogs says high protein food - formulated to give working dogs an energy boost - is not suitable for guide dogs as it lessens the owner's "control over their dog's toilet habits".
The association pays for the majority of food given to guide dogs in the UK and in 2010 was responsible for supporting 8,000 animals, including puppies in training.
It tends to supply owners with premium dry dog food to allow the dog to work in public with fewer toilet breaks.
'Unjust regime'
Mr Blunkett told BBC News: "The Treasury appear to have got themselves into a complete bind.
"The nature of the food given to certain working dogs does not define the nature of the work they do but rather the historic feeding patterns."
He said it was "ludicrous to suggest that because guide dogs can use commercially available high-energy food, they should not be designated in the same way".
"This is far more serious than hot pasties. It's about costing those using the cutting edge of the skills of working dogs 20% more than those whose activities, no matter how interesting, are much less critical to the wellbeing of their owners which, after all, should be the objective of government," added the former minister.
Guide Dogs says it intends to keep pushing for an end to what it sees as an "unjust regime" and was seeking advice from VAT experts on the government's position.
Head of campaigns David Cowdrey said: "For guide dogs to be charged VAT on their food is unfair when gundogs and racing greyhounds get a tax break.
"This is an injustice in the tax system and we are asking that food for working guide dogs is zero rated as they are working dogs, not pets.
"Guide Dogs pays more than £300,000 in VAT on our dog food each year, which could be used to help more blind and partially sighted people."
Mr Cowdrey added that even rabbit food was VAT exempt "as they are classed as a food source, even though most rabbits are kept as pets".
The campaign to exempt guide dog food from VAT was launched last year by SNP MSP Linda Fabriani.