Cruddas gets policy brief in shadow cabinet reshuffle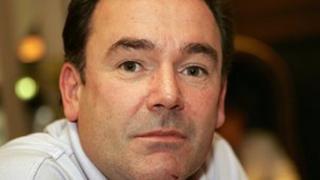 Jon Cruddas has been put in charge of Labour's policy review in a reshuffle of Ed Miliband's shadow cabinet.
Mr Cruddas, MP for Dagenham, succeeds Liam Byrne in the role, although Mr Byrne will retain his role as the party's work and pensions spokesman.
The policy review, begun in 2010, is designed to form the basis of Labour's manifesto at the next general election.
In other moves, Owen Smith becomes shadow Welsh secretary, replacing Peter Hain who quit earlier this week.
The BBC's Norman Smith said some would see Mr Cruddas' promotion as a "left-ward tilt" as Mr Byrne is regarded as one of the leading Blairites in Labour's top team.
'New ideas'
Mr Cruddas, regarded as one of Labour's leading thinkers, stood for the deputy leadership of the party in 2007, coming third to Harriet Harman.
Between 1997 and 2001 he was political secretary to Tony Blair, where he acted as a link between the prime minister and the trade unions.
He backed David Miliband, rather than his brother Ed, in the 2010 leadership contest.
"Jon Cruddas is already known as one of the most radical and deepest thinkers in the party," Ed Miliband said of his new role.
"As the policy review enters its next phase, I look forward to him bringing his energy and new ideas."
The Labour leader gave Mr Byrne the key role of overseeing the party's policy review in October 2010. The two-year project, encompassing all areas of policy, is in its final stages.
Mr Byrne had said he would quit the shadow cabinet to be a candidate for mayor of Birmingham if voters decided to back the idea in a referendum last month - but they rejected it.
Elsewhere, Tom Harris will return to the front bench as a junior environment spokesman, replacing Fiona O'Donnell.
He was sacked as transport minister by Gordon Brown in a 2008 reshuffle.
Catherine McKinnell will join the Treasury team while former Transport Secretary Lord Adonis has been given a job advising the party's industrial strategy review.
Mr Miliband's last major reshuffle was in October - when prominent frontbenchers John Healey and John Denham were among those to leave the shadow cabinet.
Our correspondent said Tuesday's reshuffle was very limited and Mr Miliband had resisted the temptation to bring back some senior figures such as Alan Johnson, Alistair Darling and his brother David Miliband.