Queen's Speech: Plans to withdraw UK from EU bailouts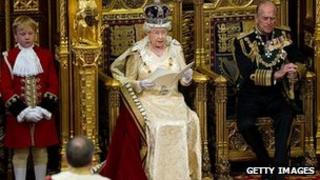 The UK will be exempt from a new European bailout agreement between eurozone countries under plans confirmed in the Queen's Speech.
EU countries have signed up to protect the stability of the single currency.
But the UK wants to ensure it is not liable if eurozone states default.
The Queen also announced legislation to confirm Croatia's accession the EU - but an expected bill to commit the UK to give 0.7% of national income in overseas aid was not included.
The government expects to meet this foreign aid target by next year, but has opted not to mandate itself to do it every year in law.
Shadow international development secretary Ivan Lewis said: "David Cameron used the promise of legislation as a key symbol of how he had changed the Tory Party.
"It has now become a symbol of how he has become a prisoner of the right and is unable to change his party."
Other foreign affairs plans outlined in the speech outlined government plans to:
Approve Croatia's joining of the EU, confirming the government's support for "further enlargement"
Reduce the nuclear threat from Iran and North Korea
Support a secure and stable Afghanistan
Bring greater stability to the Horn of Africa
Promote international security and prosperity through the UK presidency of the G8
Strengthen relations with emerging powers in Asia, Latin America and Africa
Former chancellor Alistair Darling signed the UK up to support a £750bn euro bailout scheme during coalition negotiations after the 2010 general election.
He described it at the time as "quite a good insurance scheme" for Britain.
If the Labour government had not signed up and eurozone countries had defaulted, the losses to the treasury would have been far greater, he said.
Legal change
But the government said its European Union (Approval of Treaty Amendment Decision) Bill would remove "any UK liabilities for future EU bailouts".
The fund signed up to by Mr Darling in the event of Portugal or Ireland defaulting will be replaced by a new facility for eurozone countries.
A plan to "safeguard the stability of the euro area" through bailouts was agreed by the European Council in April 2011. The bill announced by the Queen today is an attempt to get parliamentary approval for the change.
According to treasury sources the switch is a legal change the UK has to make, but eurosceptic Tories have nonetheless welcomed the bill.
Backbencher Douglas Carswell told the Daily Mail the government had "woken up to the fact that it was wrong to pour so much taxpayers money into trying to save the euro".