BNP fails to defend council seats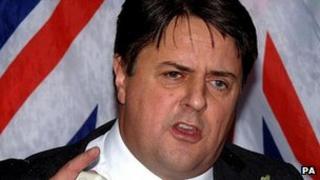 The British National Party has lost all six of the seats it was defending in the English local elections.
It has also failed to gain any new councillors, in ballot results announced so far.
However, the party still holds two seats in areas where contests did not take place on Thursday.
The BNP has won an average of 9% of the vote in 59 council wards analysed. It is also came last in the London mayoral election.
Its candidate, Carlos Cortiglia, finished in seventh position, getting 28,751 first preference votes.
The BNP lost two councillors in Amber Valley, and one each in Burnley, Epping Forest, Rotherham and Pendle.
BBC elections analyst Professor John Curtice said that the BNP's share of the vote was unchanged in council wards it contested last year.
However, it was down as much as eight points in wards last fought for in 2008.
In the London Assembly elections Nick Griffin's party lost the seat it won in 2008, finishing sixth with 47,024 votes.
· All the latest election results are available at bbc.co.uk/vote2012