Can things only get better for Miliband?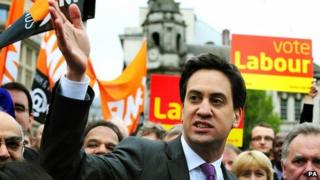 These were local elections and local referendums, but they were a crucial test for the national leaders - and the results were not good for David Cameron and Nick Clegg.
Turnout was low, which will be highlighted by some on the government side, but in what was a big test at the ballot box for the coalition it lost big.
Labour are the clear winners, making gains in places like Harlow, Plymouth and Birmingham; areas they must win if they want to emerge on top in a general election.
The party appears to be on the march beyond its traditional strongholds, which is a boost for Ed Miliband.
Sadness
Even the least charitable of observers would say this will embolden his leadership heading into the latter half of the year.
The Conservative and Lib Dem leaders have expressed their sadness at the result and the rejection of dozens of their councillors.
Losing a sizeable swathe of your base, especially for Mr Clegg, is going to hurt. Particularly as the coalition's junior partners are still tending the bruises inflicted upon them last year.
The reaction from both parties has been remarkably similar. They have blamed the poor results on the coalition, more specifically being in a government of two.
Lib Dem President Tim Farron said voters who wanted to kick the government had one option, which was to vote against his party.
Meanwhile former Tory minister Gary Streeter and current prominent backbencher Jesse Norman have sounded warnings about the coalition effect.
Mr Streeter has urged his leader to return to more traditional policies and abandon plans on gay marriage.
Ambitions
Mr Norman has warned that the perception that constitutional reform in the House of Lords was a priority for the government was dangerous just as the UK economy had tipped back into recession.
There will be more pressure on David Cameron from within. His MPs know a reshuffle is beckoning. Many of the overtly ambitious 2010 intake are looking for a rung on the ladder.
The prime minister's task is to absorb their concerns at the same time as sticking to the coalition programme, to which he is irreversibly signed up.
One option may be to re-energise and signal a fresh chapter by changing people but not policy.
Some of the soul-searching has been inspired by a decent showing for the UK Independence Party. It defeated Tories in parts of south-west England and appeared to help Labour make gains elsewhere by converting Conservative voters.
UKIP's leader Nigel Farage has dismissed claims it is a blip. He pointed to a recent trend of the UKIP vote increasing at every election.
Garden reunion
But he has warned that this was more than just disaffected Tories expressing anger over Europe. If Mr Cameron wants to eat into UKIP's vote, Mr Farage said, the Conservatives would have to make major changes to their manifesto.
A "Rose Garden Two" is expected soon. The prime minister and his deputy are expected to repeat their joint media event behind Downing Street in a show of unity and commitment.
It will not be as cosy but it will re-iterate the central theme from 2010, which is the economy.
Sources close to Mr Clegg say it is a "distortion" for some Tory MPs to imply that dealing with the deficit and trying to get growth back is not front and centre across government departments.
Two years in to what we are now told will be a seven-year process, both men knew this would be difficult for them politically, as they try to force unpopular policies with painful consequences upon the country.
But the key for Mr Cameron and Mr Clegg will be to try to persuade people that it will be worth it, it will get better, and - crucially, if they are to maintain support once 2015 comes round - that they are doing it fairly.
Commons arithmetic
A sense of direction is vital. Combine the post-Budget drip-drip of problems the government faced, with criticism from people like Tory MP Bernard Jenkin that Whitehall lacked long-term strategy, and it is no surprise that there is a sense that Downing Street and the rest of the government machinery need to focus on the big picture.
The Liberal Democrat Business Secretary Vince Cable has said his members need some direction. It is up to him and the rest of the cabinet to communicate that.
Mr Miliband will savour this moment to the full.
It is a boost to his leadership. The projected national share for his party is healthy, a 7% lead at 38%. That would give him a majority going towards 90 in the House of Commons if that pattern was mirrored at a general election.
Anything less could have signalled disappointment for a party way ahead in some polls at a time when even the prime minister admits things are difficult.
The Labour leader's first reaction to the gains was to appeal beyond people who had supported his party.
And, acknowledging that turnout was low at about 32%, he wants to reach out to those who did not support any party.
He, like all the political leaders, knows that it is the undecideds and the waverers who win elections.