Bills delayed 'to make room for Lords reform'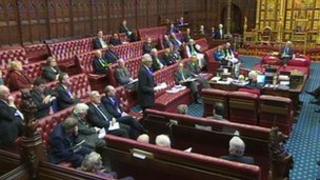 The government is putting promised legislation on hold to make room for House of Lords reform, MPs say.
A bill to reform higher education has been put on the back burner and is not expected to be in the Queen's Speech.
A promised shake-up of the water industry will be downgraded and it is not clear when an electricity bill will be published.
Some MPs and officials say measures are not yet ready or there is no political agreement between coalition parties.
But others claim some of the plans have been squeezed out because the plans to reform the Lords will take up so much time.
It comes after it emerged that plans to enshrine Britain's aid spending levels in law have also fallen down the legislative timetable, as have proposals to overhaul social care for the elderly and disabled.
Ministers fear the proposals for a largely elected second chamber could clog up the parliamentary time table for years.
This is not just because the plans will face huge opposition and will be subject to more detailed line-by-line scrutiny and votes than more straightforward legislation.
'Very unlikely'
It is also because constitutional reforms have to be considered on the floor of the House of Commons and cannot be sent off to a separate committee like most bills.
The key measures affected include:
A higher education bill to streamline the regulation of universities and other educational bodies in the wake of the increase in tuition fees. When the Higher Education White Paper was published in June 2011, the education department promised that, "subject to parliamentary time, a Higher Education Bill will be brought forward in 2012". But government sources now say this is "very unlikely to be in the Queen's speech".
A bill to introduce new controls on taking water out of rivers and give new guidance for water companies for longer term planning. In the Water for Life White Paper published in February this year, the environment department promised: "We will publish a draft Water Bill for pre-legislative scrutiny in early 2012 and introduce a Water Bill as soon as Parliamentary time allows." Sources now say that while a draft bill will be promised in the Queen's speech, no bill will be put before MPs until the third session of parliament.
A development bill to enshrine in law the government's promise to spend at least 0.7% of national output on foreign aid. The coalition agreement promised: "We will honour our commitment to spend 0.7% of GNI on overseas aid from 2012, and to enshrine this commitment in law." But government sources are saying only that "the bill is ready and will be introduced when parliamentary time allows".
A social care bill to overhaul long term care for the elderly and disabled. The government promised in its July 2010 Health White Paper that it would introduce "legislation in the second session of this Parliament to establish a sustainable legal and financial framework for adult social care". But government sources now accept that there will be no care bill in the Queen's speech, amid disagreement over whether reform is affordable. It is expected instead that it will give ministers "drafting authority" to prepare legislation for the following parliamentary session.
An electricity bill to attract new investment and secure a new mix of energy sources. When the Electricity Market Reform White Paper was published in July 2011, the energy department promised that "the government intends to legislate for the key elements of this package in the second session of this Parliament which starts in May 2012". Sources said it was "not clear yet" when a bill would be published but they expected a "legislative happening" sometime in the next parliamentary session. They blamed the delay not on Lords' reform but on the need to get complicated legislation right. An energy department spokesman denied that the electricity bill was being delayed. "This is categorically untrue," she said. "We are committed to legislating for electricity market reform in the forthcoming session of Parliament". But she could not say when the bill would be published.
Eleanor Laing, Conservative MP for Epping Forest and chair of the backbench 1922 sub-committee on constitutional affairs, said: "The government has so many pieces of legislation that are needed to help put the economy back on its feet and that is what people on the doorstep are telling me they want. We should not be wasting our time on constitutional reform that is not going to improve the life of a single person in the UK."
Simon Hart, Conservative MP for Carmarthen West and Pembrokeshire South, said: "It is difficult to look voters in the eye and explain why a time-consuming expensive and divisive measure like Lords' reform is needed now.
"The Queen's speech should demonstrate clear direction and what we stand for - jobs and growth."
A Lib Dem spokesman said that it was entirely possible for the government to reform the House of Lords as well as doing other things.
"This was something that was in both our parties' manifestos and some people would rather blame their lack of a bill on Lords' reform than on other reasons," he said.