BNP blames London demographics ahead of local poll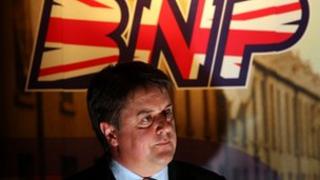 "Indigenous Londoners" have been forced out of the city, hitting the BNP's chances of success in this week's election, the party has claimed.
In 2008 the anti-illegal immigration party scored a success when they won a seat on the London Assembly.
But their national spokesman said "real, indigenous people" had since been "driven out" of the city.
Simon Darby said the cash-strapped party would focus scant resources on the race for London's City Hall.
But the party's former deputy leader downplayed its chances of success.
"The biggest thing in London is demographics," Mr Darby said. "The way real indigenous people in London are being driven out - that's our biggest challenge."
Mr Darby was Nick Griffin's number two until 2010.
Big changes
He said he did not know how many council candidates the party is fielding in Thursday's local elections but that the number was "well down" on previous years.
Observers have said there will be 131 candidates standing for the BNP, which launched its campaign last month.
The party has been beset with financial problems so will target campaigning in London at the expense of other parts of the country, Mr Darby said.
"We don't see why we should continue to push ourselves and get into more and more debt... I'm not going to try to hide and disguise the reasons why we're down."
After successes in local, London Assembly and European elections, the party's fortunes have since declined and the number of BNP councillors has fallen to around 10.
In 2008 they won one London Assembly seat with 5% of the London-wide vote.
But Mr Darby said there had been "big changes" in the ethnic composition of parts of the city in the last four years.
"There's lots more African names on the electoral roll in Barking and Dagenham. It's happened very quickly and it's very worrying," he added.
Mr Darby said the party was now in a "much better financial state" to fight elections in the future - including the forthcoming police commissioner contests - after an ex-tube driver left BNP £500,000.
He claimed an information booklet distributed for free by election officials to 300,000 London homes constituted a "very good deal" for the party. The booklet carries information about voting and a campaign message from every mayoral candidate.