Vote 2012: Nick Clegg says voters listening to Lib Dems again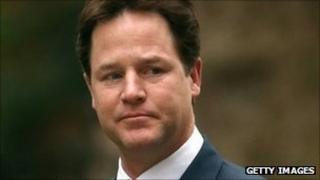 Voters are listening to what the Lib Dems have to say again after last year's English election disappointment, party leader Nick Clegg has said.
Lib Dem policies - such as cutting tax for the low paid - were "starting to make a difference" and the party should be "proud" of them, he told the BBC.
In last year's local elections the party lost control of nine of their 19 councils and 778 councillors.
Local authority ballots take place in England , Scotland and Wales on 3 May.
The 2011 local elections in England prompted calls from some senior Lib Dems in local government for Mr Clegg to quit.
This year they are defending fewer councils - mostly in the south of England.
Mr Clegg, , said it was "focusing its resources" on parts of the country where it was strongest, and there was no point fighting seats where it did not have "the slightest hope of winning".
'Different mood'
Speaking on BBC Radio 5Live Mr Clegg said his party wanted to "do better" at this year's elections and claimed there was a "different mood" among voters.
"Yes, there's a lot of anxiety about the economy. Yes there's lots of uncertainty about what the future holds but I actually think people are hearing us, people are listening to us this year, in a way that wasn't always the case last year.
"People look around the world and see that there are just simply no easy choices. Our deficit is about the same as Greece's and yet they look at how much worse things are in other parts of Europe."
He said the party was "trying to do the right thing for the long term benefit of the country" by cutting the deficit and "rebalancing" the economy so that it was not over-reliant on financial services.
"These are not overnight projects but they are good things to do and local Liberal Democrat councils have been contributing to that.
"We are the only party in England which has frozen council tax everywhere. We are the only party which hasn't closed a library where we are in control.
"We are locally and nationally doing good things, fair things, in difficult circumstances."
He said Lib Dems should be "proud" of their record in government, pointing to the rise in the amount of money people can earn before they start paying tax and the Pupil Premium - extra money for schools based on how many pupils have free school meals.
Both policies were contained in the Lib Dem manifesto and subsequently adopted by the coalition.