William Hague promises £1.5m to promote freedom of expression online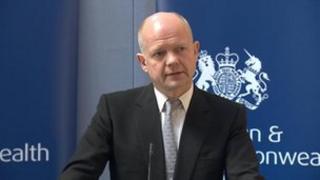 Foreign Secretary William Hague has announced an extra £1.5m of funding focused on "promoting freedom of expression online".
It is part of a package of measures intended to "strengthen and develop" human rights around the world, he said.
Mr Hague was launching his department's annual report on the British government's human rights work in 2011.
He also said the Foreign Office would start reporting quarterly on the situation in Bahrain and Ethiopia.
The switch from reporting annually to quarterly in certain countries would allow the government to keep up to date with human rights developments around the world, Mr Hague said.
He added that systematic reporting of human rights issues in Rwanda and Egypt could soon be introduced.
The £1.5m is additional to the Foreign Office's £5m democracy and human rights spending for the coming year and "will be devoted to projects to promote freedom of expression online and the implementation of the UN guiding principles on business and human rights".
He said the funding would be focused on 28 countries covered in the report - including China, Russia, Libya, Israel and Iran.
Britain had worked specifically to protect online freedom of expression in 2011, the report said, and had "worked with other countries to prevent the internet being used as a means of political repression".
But the annual audit noted that 199 bloggers and online campaigners had been killed around the world last year.
Mr Hague said human rights had deteriorated in 2011 in Somalia, Belarus, Eritrea and North Korea.
And he insisted the report addressed areas where the British government had "fallen short".
"This applied to our efforts to address past allegations of British complicity in extraordinary rendition leading to torture."
The government will hold a "judge-led inquiry" into the the issue once "all police investigations have concluded, to establish the full facts and draw a line under these matters", according to the report.