Ed Balls warns of 'lost decade' on growth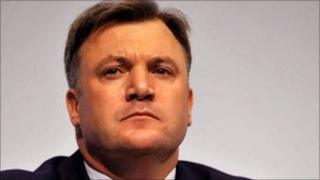 Britain faces a long "lost decade-style" period of slow economic growth, Labour's Ed Balls has said.
The shadow chancellor told the Observer deficit reduction had to be balanced with a plan for jobs and growth.
It comes days after official figures showed the economy returned to recession, shrinking by 0.2% in the first three months of 2012.
But PM David Cameron said he would not abandon spending cuts as to do so would jeopardise the UK's low interest rates.
He warned that the eurozone - which receives 40% of all UK exports - was not "anywhere near halfway through" its crisis, and faced a "very long and painful process" ahead.
Double dip
On Wednesday the Office for National Statistics published the latest GDP figures which showed the UK had entered a "double-dip" recession, as the economy had shrunk again, following a 0.3% contraction in the last three months of 2011.
The Sunday Times has published a survey of 1,717 adults, carried out on Thursday and Friday, which puts support for Labour on 40% while support for the Conservatives has plunged to 29% - days before the local elections in England, Wales and Scotland.
Conservative Communities Secretary Eric Pickles told the newspaper Labour "should be able to make 700 gains [seats won from other parties] just by turning up".
Mr Balls told Sky News there was still "a long way for us to go" but he believed, with the UK having returned to recession, people would start to ask: "What's the alternative?"
Slow growth
He said: "This is a very important moment in this Parliament but Labour's got a lot of work to do."
He told the Observer that a credible deficit reduction plan had to be balanced with a plan for jobs and growth.
"I am not predicting years of recession although we could well be in for a long 'lost decade' style period of slow growth and high unemployment," he said.
The risk was that the economy would continue to under perform and grow below trend "Japanese-style" and that unemployment would therefore stay high.
He added: "That sort of stagnation is consistent with a bit of growth, but not enough, that could go on for a very long time."
Mr Balls, who backs a VAT reduction and new bank bonus tax to fund youth job measures, said it was hard to see how to get the economy out of trouble with "such a fiscal clamp down" as was currently taking place.
But Mr Cameron told the BBC the government "absolutely mustn't" throw away its deficit-cutting plan - warning that to do so would jeopardise the UK's low interest rates.
'Painstaking process'
He said there had been too much debt in UK banks, households and government and dealing with it took time but he would not be "driven off by the short-term difficulties".
The prime minister said the UK was going through a "very painstaking process" of rebalancing the economy away from a focus on financial services.
He said the private sector was growing and there were positive developments in manufacturing - and pledged to "redouble" the government's efforts.
He also blamed the eurozone crisis adding: "I don't think we are anywhere near halfway through it because what's happening in the eurozone is a massive tension between the single currency that countries are finding very difficult to adapt to."
On the Sunday Times poll ratings, he said: "It's been a difficult month, but it's far more difficult for people who are trying to find work... and a difficult time for the country.
"What I have to do is convince people that we're taking the right long-term decisions to deal with problems in our country that have existed for many years."
Meanwhile Lib Dem party president Tim Farron has played down poll findings suggesting his party was only just ahead of the UK Independence Party - on 11%, ahead of UKIP on 10%.
He told Sky: "In the last 12 months the Liberal Democrats' opinion poll rating has edged from pretty dreadful to only a bit depressing."
"We know we are in a position we have never been in before, at least since the First World War - a Liberal Democrat government in mid-term - and of course we are having to take difficult decisions because of the state of the economy."
But he said he had received a "fantastic response" on the doorstep and he was "fairly confident" the party would not be overtaken by UKIP.