Ken Livingstone: Government 'in real trouble' if I win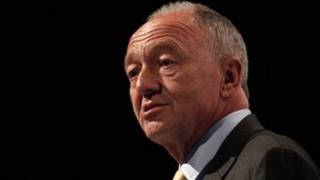 Labour's London mayoral candidate Ken Livingstone has said the government "really is in trouble" if he beats Boris Johnson on 3 May.
In an interview with House magazine , he said a victory for him would be a "staging post" towards an Ed Miliband government.
But Mr Livingstone acknowledged he was less popular than Mr Johnson with women voters.
He is one of seven candidates bidding to be London mayor on 3 May.
In a wide-ranging interview, Mr Livingstone said: "If I can take him down, then the Tory government really is in trouble.
"If Ed Miliband forms a Labour government, it will be the most transformatory since Attlee's.
"It will make a much fairer Britain. And therefore, all the vested interests, like the Barclay brothers, Lord Rothermere, Murdoch, all have an interest in stopping him. And I'm seen as a sort of staging post towards that."
'Good record'
Asked why he was apparently trailing among women in opinion polls, he said that before 1997 Labour had always been more popular with men.
"If women had never been given the right to vote, then Labour would have won every election after the war. So, there's nothing new.
"My core vote pretty much reflects where Labour is coming from, and our traditional areas of strength and weakness," he said.
But the Labour candidate, who was mayor of London for eight years from 2000 to 2008 - and before that leader of the Greater London Council (GLC) - defended his record on women's issues.
"As the creator of the GLC women's committee. As the initiator of the campaign to make rape in marriage illegal, which everyone pooh-poohed and said couldn't be done. As the initiator of the campaign to make genital mutilation illegal - I've got a good record."
The Labour candidate also dismissed criticism over his tax affairs.
Hitting back at David Cameron who has attacked him at prime minister's questions for setting up a private company into which his earnings were paid, he said: "Isn't it bizarre that here I am operating within the legal framework of the tax regime that his government has created and he's complaining about it?
"The truth is, no-one pays more tax than they have to."
'Big surplus'
Describing himself as a "Keynesian", the Labour candidate said his proposal to use budget surpluses to cut public transport fares would put "£269 million back in Londoners' pockets" to spend in local shops.
While critics have said this is unaffordable - Mr Johnson says it would hit investment - Mr Livingstone insists: "Boris doesn't read his budget reports. I mean, he wouldn't have known there was a big surplus."
He told the House magazine that when he lost in 2008, he left the Conservative mayor "reserves of one and a half billion".
Mr Johnson has also given an interview to this week's House magazine in which he expresses doubt about several coalition policies .
He says he is "very, very sceptical" about plans to extend powers to monitor email, web and telephone traffic, and says any cap on tax relief for charitable donations must be considered "very carefully".