Pasty tax sparks anger from bakers large and small
By Sean Clare
BBC News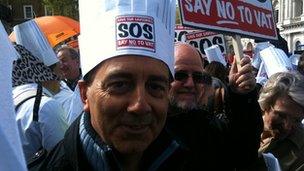 Government plans for what critics have called the "pasty tax" have met with political opposition from all sides.
But what do the bakers whose livelihoods will be affected think? The BBC News website spoke to them as they protested outside Downing Street.
Chancellor George Osborne says Parliament decided to charge VAT on all hot, takeaway food in 1984, but has failed to do so for 30 years because of "a load of legal action" to get around the tax. All he is doing, the Treasury says, is closing this loophole.
Bakers say if the government taxes takeaway pies, pasties and sausage rolls fresh from the oven it could be the thin end of the wedge - any fresh food could be next.
The clear message from the 300 or so baking protesters is that they feel customers and businesses cannot afford the tax change.
Beaney's Bakery in Medway, Kent is a small family business started in 1936. Chris Beaney, who took it over from his father 44 years ago, is also a director of the National Association of Master Bakers, which represents around 1,000 craft bakers across the country.
Mr Beaney said: "They've changed the rules so that if someone comes into our shop and a tray of sausage rolls comes out of the oven, we're not allowed to sell those sausage rolls unless we put VAT on them, or we say to them 'hang on 10 minutes and you can have it without VAT'.
"It's going to be completely impossible to police.
"If we let this go through it could mean that you could put VAT on any fresh food product - lettuce, tomatoes, potatoes, anything - and I think that's really wrong because if you put VAT on fresh food it will just get worse and worse."
Chris Young, from the Real Bread Campaign, said bakeries relied on sales of pasties and pies to keep them afloat.
"At a time when government should be supporting small independent businesses this really isn't helpful. There's no profit margin in baking real, additive-free bread and so a lot of small independent high street bakeries rely on pies and pasties to help keep them in business.
"We really don't need this. We need help, not hindrance from the government. We don't need yet another tax, we need tax breaks. We are part of a local community bringing fresh real bread and we need a hand here."
Adam Yates and five other Greggs bakers set off from Treforest, Pontypridd at 5.45am to get to the Downing Street protest. He said customers in Wales were "livid" at the tax plans.
"It's totally unfair. We've got a double-dip recession. Our customers don't need this. The business doesn't need it - it's grossly unfair and we'll fight until the bitter end until the government change their minds.
"Customers are absolutely livid - it's totally unacceptable. We can't pass the costs straight onto the customer but something's got to give somewhere. That's why we're all here demonstrating today."
Martin Kibbler travelled from Newcastle. He said: "It'll be very hard to explain to customers why they should be expected to pay 20% tax on something that's just an everyday food product. We feel that it's just so unfortunate that it's being proposed at a time when customers are really feeling the pinch so struggling for money.
"It's really unwelcome for everybody. It's bad for business, it's bad for employment, and most important it's bad for consumers."