No 10: No plans to investigate Jeremy Hunt over ministerial code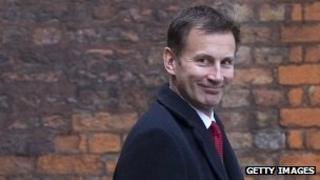 Downing Street says there are "no plans" to investigate whether Jeremy Hunt has broken the ministerial code.
David Cameron's spokesman said he was sure Mr Hunt had acted properly and it was a matter for the Leveson Inquiry.
But Lib Dem deputy leader Simon Hughes has told the BBC he "cannot understand" the prime minister's decision.
Labour has said the culture secretary should quit after details emerged about contact between his office and News Corporation during a takeover bid.
On Wednesday, Mr Hunt's special adviser Adam Smith resigned over the extent of his contact with News Corporation during the planned takeover of broadcaster BSkyB.
The culture secretary himself has said he "strictly followed due process", and denied that News Corp had any "back channel" of influence with his office.
But shadow culture secretary Harriet Harman has written to Mr Cameron demanding that he order his independent adviser on ministerial conduct, Sir Alex Allan, to launch an inquiry into whether Mr Hunt had breached the ministerial code.
'Severe questions'
Under the code, ministers are responsible for their own actions and those of their special advisers.
Mr Hughes told the BBC's Question Time he did not think Mr Hunt "should resign now", but said: "I do think there are severe questions he hasn't yet answered."
He said special advisers were "pretty close to their ministers", and continued: "What I cannot understand is why the matter of the ministerial code of conduct… is not something the prime minister immediately should refer to the person who's been given the job to do it.
"Only the prime minister can do that, he has so far, I gather, resisted doing it. I don't think it gets in the way of the Leveson Inquiry and the evidence - it's a separate matter.
"I don't know why he hasn't done it but I would have thought to give confidence in the system… I hope the prime minister reconsiders his view.
"That must be in Jeremy's interest. If Jeremy is correct in what he's said, he'll be vindicated. If he's not, then he has to take the consequences."
'Given no notice'
Mr Hunt told the Commons that Permanent Secretary Jonathan Stephens had approved Mr Smith's role as liaison on the BSkyB deal.
But earlier, when Mr Stephens appeared before the Public Accounts Committee for a session on the Olympics, he repeatedly refused to be drawn about whether he had indeed done so.
He was asked at least 10 times, but referred the MPs to previous statements made by Mr Hunt and Mr Smith, and said he had been "given no notice" of the MPs' questions.
A spokesman for the culture department said later Mr Stephens "did not feel it was appropriate to provide further information ahead of the department's evidence to the Leveson Inquiry".
Bernard Jenkin, senior Conservative and chairman of the Public Administration Committee, also told the BBC's World at One on Thursday that Sir Alex Allan "should decide whether there's a case to answer".
Ideally, he said, the independent adviser "should be empowered to instigate his own investigation", but at the very least, new Cabinet Secretary Jeremy Heywood "should demonstrate his independence and advise the prime minister that he thinks there's been a prima facie case of breach of the ministerial code".
'Firewall'
Ms Harman has also written to Mr Hunt and Mr Stephens asking them to publish all emails and texts between him and his special adviser related to News Corp.
Labour leader Ed Miliband told told BBC Radio 4's Today it was impossible to believe that Mr Smith had "acted as a lone wolf".
He said "politicians should act in a way that is above board and correct" and it "beggars belief" that the culture secretary was still in his job.
Mr Miliband suggested that the culture secretary's career was being salvaged to keep a "firewall" up around Mr Cameron.
"If he goes, the questions will move to David Cameron's conversations with Rebekah Brooks, with James Murdoch, and others," the Labour leader said.
Mr Miliband said it seemed Mr Smith "was engaged in a six-month collusion with News International" and it "beggars belief" that Mr Hunt would not have known about it.
But Employment Minister Chris Grayling told Question Time only "half the story" had been told.
"We've got a collection of emails released by a PR man to his bosses - which we know contain plenty of spin because they suggest that he had had meetings and discussions with Jeremy Hunt that he now accepts he hadn't had.
"That's the only evidence that's out there."
'Collusion'
In a Commons statement on Wednesday, Mr Hunt defended his handling of News Corp's bid to take over BSkyB.
He also argued that his previous expressions of "sympathy" for the takeover had led him to be more scrupulous than strictly necessary in seeking independent advice at every stage of the negotiations, to forestall his critics.
The issue was raised at the Leveson Inquiry as News Corp chairman Rupert Murdoch gave evidence for a second day.
He denied that he thought Mr Hunt had been "on our side", saying that the minister had extracted "very big concessions" from the corporation.
Mr Smith quit on Wednesday saying his contact with the firm "went too far", after a string of emails were published by the Leveson Inquiry, suggesting that News Corp PR executive Fred Michel was regularly obtaining confidential information from Mr Hunt's office.
The government believes that Mr Michel's emails exaggerate the extent of his access to Mr Hunt's department, suggesting that some of the meetings he describes did not take place.