'No monument' to assassinated PM Spencer Perceval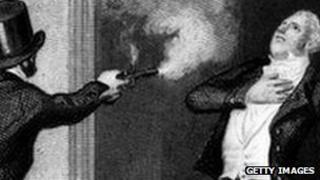 The government has rejected a call to erect a monument to mark the 200th anniversary of the death of Spencer Perceval - the only British Prime Minister to be assassinated.
Former Metropolitan Police chief Lord Blair said such a "grave and unique" event should be commemorated.
But Lord Wallace of Saltaire told peers Westminster Abbey already had a large Perceval monument and that was enough.
Mr Perceval was a leading figure in the fight to abolish slavery.
He was killed by John Bellingham, a bankrupt and embittered businessman, who shot him with a duelling pistol in the lobby of the Palace of Westminster.
Lord Walpole raised a laugh in the Lords chamber by revealing that he was a descendant of one of Perceval's sisters - but that had not prevented him from being friends with Conservative MP Henry Bellingham, a descendant of the assassin.
Lord Blair said the government should "use the anniversary of Perceval's death to consider whether enough is being done to combat the pernicious and degrading trafficking of women and girls for sexual services by organised crime".
Lord Wallace of Saltaire assured the former police chief the government was taking the issue seriously and had last year published a White Paper on it.
But the Lib Dem minister added: "I am not enormously in favour of adding more political statues within the Abbey and I'm not sure how many more memorials we actually want around here. That's a personal view, not a governmental view."
He said a selection of historic papers relating to Perceval would be "digitised" and placed on the National Archives website to mark the anniversary.