Expenses peers Uddin and Hanningfield back in Lords
By Sean Clare
BBC News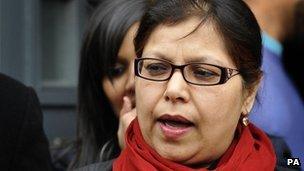 Suspended peer Baroness Uddin will return to the House of Lords in May after repaying more than £125,000 she wrongly claimed in expenses.
The politician follows fellow peer Lord Hanningfield, who has returned to Parliament after he repaid £30,000.
He spent time in prison after being convicted over his expenses but was released on licence last September.
Baroness Uddin, who was suspended in October 2010, repaid the debt "in one lump sum", a Lords spokesman said.
She remains suspended until the end of this Westminster session and will return after the Queen's speech, scheduled for 9 May.
Lord Hanningfield, a former Conservative leader of Essex council, took his seat on the Lords benches on Monday for the first time since his release from jail.
Members of the Lords voted to suspend both peers at the end of 2010.
Baroness Uddin's 18-month ban will be the longest in the House of Lords' history, an official said. The motion suspending her has effectively been lifted. She was suspended from the Labour Party over her expenses.
Baroness Uddin did not face criminal charges but a report by the Lords Privileges and Conduct Committee said her housing claims were "made wrongly and in bad faith".
She had designated a house owned by her brother as her "main home" for four years - and for a further five years said her main home was a flat in Maidstone, Kent.
During that period her family home was a rented housing association house in east London.
It had been thought she could remain suspended until 2015 after reports suggested she was unable to repay the money - £125,349.10 in total.
Lord Hanningfield was accused of claiming for overnight stays and travel in London when in fact he had returned home to Essex.
He resigned as shadow business spokesman in the Lords and had the Conservative whip withdrawn when he was charged.
The peer told the BBC in November he wanted to put the episode behind him and use his experiences "for the benefit of others".
Lord Taylor of Warwick, who was also jailed over his expenses last year and suspended from the Lords having been found to have wrongly claimed £24,311.70, had already repaid the sum in full.