House of Lords should be 80% elected - MPs and peers' report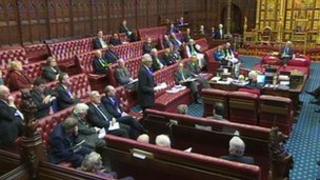 A reformed House of Lords should be 80% elected and there should be a referendum before any change is made, a parliamentary committee has said.
MPs and peers also said there should be 450 peers - down from about 800 - who would serve for 15-year terms.
But the committee was split - nine of the 26 members voted against elected peers and eight opposed a referendum.
Earlier David Cameron said he was not persuaded of the need for a referendum but would not rule one out.
The Conservatives and Liberal Democrats agreed in their coalition deal to set up a committee to examine proposals for a "wholly or mainly elected upper chamber" - but the issue is seen as one that is driven more by the Lib Dems.
The government's proposals unveiled last year had been for a smaller, 300-member upper chamber, with 240 elected peers and 60 appointed peers serving single terms of 15 years.
Too small
But the committee said if there were to be elections it should be to a 450-member House of Lords, with 20% of peers appointed "as a means of preserving expertise and placing its mandate on a different footing from that of the Commons".
The 15-year terms would be non-renewable and peers would also receive a salary of about £50,000 a year, rather than the existing attendance allowance.
The report said a 300-member House would be "too small to provide an adequate pool to fulfil the demands of a revising chamber".
But some members of the committee released a separate report arguing that the government's draft bill "totally fails" to protect the primacy of the House of Commons and proposing a "constitutional convention" should be set up to consider the issue more widely.
The House of Lords, the "upper house" of Parliament, scrutinises legislation but can be overridden by the House of Commons using the Parliament Act.
Most members, "life peers", are nominated by the prime minister, although some are nominated by other party leaders.
Other peers, the 26 "Lords Spiritual", are drawn from the Church of England, and about 90 hereditary peers remain - 666 hereditary peers lost the automatic right to sit and vote in Parliament under previous reforms.
The committee's report agreed by a majority of just 13 to nine that a reformed House of Lords "should have an electoral mandate provided that it has commensurate powers", although it noted concerns it could mean elected peers would challenge the traditional primacy of the House of Commons.
The committee backed the government's proposals that peers be elected by single transferable vote (STV), a form of proportional representation and that the number of bishops be reduced from 26 to 12.
It said the new peers should be introduced in three stages up to 2025 but all current peers who attend fewer than one in three sitting days in Parliament should be immediately removed in 2015.
Heated meeting
A telephone survey of 1,000 British adults by ComRes for BBC Radio 4's World at One programme suggested that 72% backed a referendum on Lords reform, 69% supported electing at least 80% of peers and just 23% supported the status quo.
Committee chairman Lord Richard said the joint committee had undertaken "a thorough and detailed analysis of the proposals put forward in the government's draft Bill" and had decided "on a majority" that the Lords should have a "democratic mandate".
But a dissenting group of 12 committee members, including Labour, Conservative and crossbench peers and MPs, said a wider "constitutional convention" was needed to consider all the issues involved.
One of its members, Conservative peer Baroness Shephard told the BBC research by Labour peer Lord Lipsey suggested there would be a "vast increase" in costs - from just under £19m a year to up to £433m over five years to 2020.
She said it may turn out to be "worth it in the name of democracy" but the public should know: "I wonder if it were put to them in that way whether they would be as enthusiastic as your polling says they are for 450 more elected paid party politicians."
But Constitutional Reform Minister Mark Harper said those costs were "completely speculative" and he did not yet know whether costs would rise, but said a referendum on the issue would cost "around £100m".
Some Conservative MPs are unhappy about the government's proposals to change the House of Lords but Lib Dem Deputy PM Nick Clegg said on Sunday that politicians from all parties should "get on with it now, with minimum fuss".
Mr Cameron told BBC Radio 4's Today programme that while the issue was "not the most important thing this government is doing", it was a "sensible, reasonable" reform and "the right thing to do".
He said he personally was not persuaded of the need for a costly referendum when the three biggest Westminster parties all backed some form of change in their 2010 manifestos, but added: "We don't rule it out."
Shadow justice secretary Sadiq Khan told the BBC Labour wanted a 100% elected House of Lords and a referendum adding: "It's unacceptable that Ed Miliband, David Cameron and Nick Clegg decide who the legislators are, we believe the public should have a say."
He said the party was "very keen" to work with the government on the issue but added that other issues also needed resolving - to decide which chamber had "primacy": "We don't want gridlock, we don't want the House of Lords flexing their muscles more than they currently do."