Ken Clarke: ECHR reforms 'will cut UK's frustration'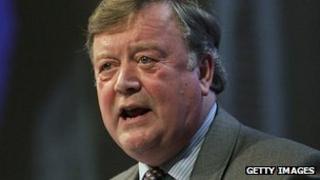 Ken Clarke has said changes to the European Court of Human Rights will reduce "frustration" over cases such as the proposed deportation of Abu Qatada.
The justice secretary told Sky News it was "remarkable" that 47 countries had reached agreement in Brighton last week to cut the ECHR's backlog of cases.
Abu Qatada is wanted in Jordan on bomb plotting charges but the ECHR is yet to decide whether to hear the case.
Ministers had always said deportation would take "months", Mr Clarke said.
The conference involving all countries signed up to the ECHR took place in Brighton last Thursday and Friday, with all present agreeing that reform had to be implemented.
The UK government wants to curb the European court's powers to overrule cases already decided by national judges.
'Wild excitement'
But the conference was overshadowed by a political row over deadlines involving the proposed deportation of Abu Qatada.
It had been thought that the radical preacher's removal to Jordan was imminent.
But it emerged that Abu Qatada - a Palestinian-Jordanian - had lodged an 11th-hour appeal to the court's Grand Chamber, arguing that judges had been wrong to decide he would not be at risk of torture in Jordan.
Ministers believe the three-month deadline for appealing against the ECHR's ruling passed on Monday night. On Tuesday Home Secretary Theresa May told MPs she had received fresh guarantees from Jordan that Abu Qatada would face a fair trial so he could now be deported.
But on Wednesday the court said it had received a request for an appeal at 22:00 BST on Tuesday, which it said was before the deadline.
The deportation process cannot begin until a panel of judges has decided whether the case should go to the court's Grand Chamber.
Mr Clarke told Sky News that moves that began in Brighton would speed up such decisions, saying: "We would actually have a lot of frustration about the cases that we lose, but we would be less frustrated if they hadn't been locked up there [at the ECHR] for years."
Access to justice fears
He added: "When Theresa announced [the deportation] it in the first place, she said it would take several months more... Of course we only deport people in accordance with the process of law... The result is inevitably that it's going to take a few months of legal process.
"Some of the wild excitement about the details of that process has been taken to excess. We have lost the point in looking at all of this."
At the end of last year, judges at the ECHR in Strasbourg faced a backlog of nearly 152,000 cases, of which an estimated 90,000 will end up being categorised as "inadmissible".
On the Brighton declaration, the justice secretary said: "We made quite remarkable progress. To get 47 member states to agree on a declaration shows what a desire for reform there was."
"We got rather overshadowed by circumstances in London... but actually I think more important achievements took place down in Brighton."
He added: "I thought the chances of getting everybody from Azerbaijan to Iceland and Italy to the Russian Federation was not good. But everybody there realised that further reform was needed and the pace of reform has accelerated."
Mr Clarke also said: "We've discussed it in cabinet twice with complete unanimity. We got what we set out to achieve in Britain."
For Labour, shadow justice secretary Sadiq Khan said that some of the most important reforms wanted by the government had not been achieved at the Brighton conference.
Critics of the UK's desire to reduce the court's workload say it risks damaging access to justice in some member countries, including Russia and Ukraine.