Cost of Commons fig trees chopped to £18,500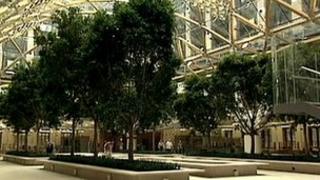 Parliamentary officials have reportedly cut a deal to almost halve the cost of indoor fig trees to £18,500 a year.
The 12 trees in Portcullis House, which houses MPs' offices, have cost taxpayers almost £400,000 since 2000.
Parliament rents the trees for the atrium of the glass-roofed building at an annual cost of £32,500.
But according to a leaked report, officials will apparently cut costs by renegotiating the contract with tree maintenance firm Plant Care UK.
According to the Evening Standard , the trees will now be donated to Parliament and Commons authorities will pay £18,500 a year for their upkeep.
To replace the trees would cost £200,000 and any alternatives would be "more expensive, disruptive and increase our carbon footprint", a proposal to the Commons Finance and Services Committee will reportedly say.
Commons Speaker John Bercow said in an interview with the House magazine earlier this year that he was "horrified" by the trees' costs.
"If we are going to have trees they absolutely shouldn't be trees that cause us to fleece the taxpayer in this way and that must change at the earliest opportunity," he said.
Portcullis House has been home to MPs' offices and committee rooms since 2001.
The fig trees are used to provide shade in the atrium of the building, which MPs use to hold meetings with constituents and other visitors.
MPs will decide the future of the trees at the end of this month.