Cameron 'committed' to Lords reform amid Tory unease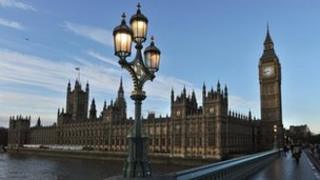 Prime Minister David Cameron is "committed" to House of Lords reform, Downing Street says, despite the prospect of a rebellion by his own MPs.
Ministers want to introduce a wholly or mainly elected upper chamber and the Lib Dems want firm proposals to be in next month's Queen's Speech.
But it is thought that just one Tory MP backed the proposals at a backbench meeting on Thursday.
Labour says it favours an elected Lords but wants a referendum on the issue.
Various Conservative MPs reportedly got to their feet during the heated meeting of the 1922 Committee on Thursday.
Just one, Gavin Barwell, is understood to have supported the plan while two parliamentary private secretaries - the most junior rung of the ministerial ladder - reportedly said they might resign over the issue.
Conor Burns, parliamentary private secretary to Northern Ireland Secretary Owen Paterson, told BBC Radio 4's World at One: "I think it was a very candid and honest meeting.
"A lot of people were there to make very clear their profound reservations about what might be contained in the Queen's Speech on reform of the House of Lords."
He added: "There is not a consensus within the Conservative Party on this."
Free vote
He said MPs should be allowed a "free vote" on the issue - because it was a constitutional matter which would "forever alter the relationship between the House of Commons and the House of Lords".
But he said it was premature to talk of resigning, as formal proposals were not yet "on the table".
The prime minister has pledged to see through the constitutional changes, which are part of the coalition agreement.
But the issue is seen as one that is being driven by the Liberal Democrats - 70 current Conservative MPs voted against the option of an 80% elected chamber in 2007.
A parliamentary committee is expected to call for a referendum before House of Lords changes can be introduced when it reports on the subject next week.
Downing Street said on Friday that both Mr Cameron and Deputy Prime Minister Nick Clegg were "committed to Lords reform" and all members of the government would be expected to support it.
But a spokeswoman said ministers were "not persuaded" by calls for a referendum on the issue.
However, Labour leader Ed Miliband said he backed the idea that there should be a referendum on the proposed changes.
"This is a major constitutional change and I think the best way of making sure that House of Lords reform actually happens is by giving people a say," he said.
"Labour's view, which we expressed in our manifesto, was that we wanted a democratically elected second chamber, we wanted a referendum to make that decision."
'Grow up'
Lib Dem peer Lord Oakeshott told the BBC that while some Conservatives were "quite unhappy", others, particularly younger MPs, were in favour of change.
He said those Conservatives who disagreed with reform should "grow up and support the coalition".
He added: "A lot of the people who are in favour of referendum are people who are against any change at all and they're just using it as an excuse to kick it into the long grass."
Mr Clegg has said a referendum would be unnecessary and expensive, when the three biggest parties in Westminster all had Lords reform plans in their 2010 general election manifestos.
The government has already seen one rebellion by Conservative backbenchers this week.
On Wednesday, 17 Tories voted against the imposition of VAT on static caravans, cutting the government's majority to just 25.
BBC political correspondent Robin Brant said it was possible there could be a much more significant rebellion on the Lords issue.