Green mayoral candidate: close London City Airport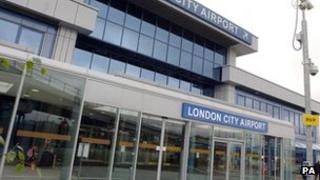 The Green Party's candidate for London mayor has said City Airport - one of the capital's main aviation hubs - should be shut down.
Speaking to the BBC's Daily Politics, Jenny Jones said the airport should be closed and replaced with "something useful" such as housing or allotments.
Ms Jones also said she would raise the central London congestion charge to £40 a day for "gas guzzlers".
The Greens could "work with" Ken Livingstone if he wins, she said.
Greedy
A spokesman for London City Airport said the hub "directly contributes over £0.5bn a year to the UK economy." The airport, in the Docklands area, connects London with 30 destinations in the UK, Europe and America.
But Ms Jones said Britain should follow Europe by "expanding" rail travel, not aviation: "We should start to understand that short haul flights have got to be overtaken by rail travel... We are very greedy and we take up more than our fare share of the earth's resources. We have to learn to adapt and survive."
Defending her party's poor performance in an opinion poll, Ms Jones said: "We haven't been good enough about putting over our policies."
She said the party's policy to insulate a million homes over four years would cut fuel bills, reduce carbon emissions and minimise the need for energy companies to build new infrastructure.
"You can have a win, win, win situation on the environment and the economy," she said.
Urging London voters to give Labour candidate Ken Livingstone their second preference votes, Ms Jones said: "We can work with him. We can't work with Boris."
Ms Jones, who has been a Green member of the London Assembly member since it was created 12 years ago, served as deputy to the Labour mayor from 2003-2004.
There are six other candidates competing to be mayor of London on 3 May.