Labour's Lord Sugar urges voters to reject Ken Livingstone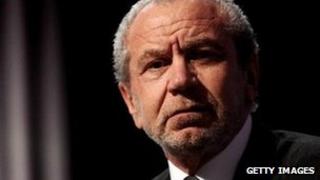 Apprentice star and Labour peer Lord Sugar has urged people not to vote for his party's candidate Ken Livingstone.
The peer defied Labour leader Ed Miliband by telling his 1.8 million followers on Twitter not to back the former mayor's bid for re-election.
"I seriously suggest NO ONE votes for Livingstone in the Mayoral elections," he wrote.
Mr Livingstone's campaign reportedly said the comments were no surprise since the pair "aren't that friendly".
Lord Sugar said: "I don't care if Ed Miliband is backing Livingstone."
Mr Livingstone was himself previously expelled from Labour after standing as an independent against its candidate in the 2000 race.
'Commercial conflicts'
But Labour has reportedly decided that Lord Sugar will not face disciplinary action over the comments, since the mogul stopped short of recommending that voters back any of the other candidates.
The entrepreneur told his Twitter followers that the contest between Tory Boris Johnson and Mr Livingstone was a "real issue".
"Livingstone must NOT get in on 3rd May," Lord Sugar concluded.
But he moved to end speculation that he was positioning himself for a future campaign to become the capital's top politician.
"It's been suggested I run for Mayor," he said. "Not possible, too many commercial conflicts, no time, more to the point I would not know where to start."
Meanwhile, former Conservative politician-turned-broadcaster Michael Portillo told the BBC's This Week programme he will not be voting for Mr Johnson on 3 May.
"I will be looking for a candidate who endorses a third runway for Heathrow airport, because I think that's fundamentally important to the capital and I can't understand any candidate presenting himself or herself without such a commitment," he said.
Independent Siobhan Benita is the only candidate to back a third runway. There are four other candidates running to be London mayor on 3 May.