Liberal Democrats' unpaid internships criticised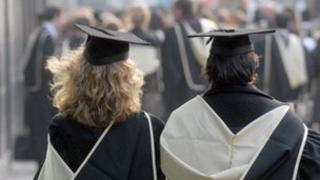 Graduates are being encouraged to apply for internships with the Liberal Democrats paying just £5 a day.
The positions are being advertised on the party's website as "voluntary" with no set contract, hours or tasks.
Labour MP Stella Creasy has criticised leader Nick Clegg over the adverts after he previously pledged interns would be given "proper remuneration".
A Liberal Democrat spokesman said it was still the party's aim to pay interns a "full wage" in the future.
Unpaid internships have been criticised as barriers to social mobility and because they enable employers to avoid national minimum wage legislation.
Ms Creasy, who campaigns for internships to comply with minimum wage rules, told the Guardian newspaper: "The law is quite clear about what can be done by a volunteer and what should be paid work.
"And one would hope that the deputy prime minister and his team would understand those distinctions."
'Real support'
The Liberal Democrat advert says: "All our internships are voluntary. This means that you will not be under any form of contract to work set hours or undertake set tasks, you will also not be paid a wage."
But the Trades Union Congress (TUC) said advertising a position as voluntary would not necessarily avoid minimum wage rules.
In April 2011, Mr Clegg said any adverts for internships with Liberal Democrat MPs would come with "real support to cover costs" in order to "give new people opportunities to participate in that kind of political activity".
The deputy prime minister said they would "conform with minimum wage legislation as much as possible" - a statement taken by some to mean that all interns would receive a salary.
But the party was later forced to issue a clarification, saying plans to pay interns at the party's Cowley Street headquarters the minimum wage "would not happen this year" and it was "looking for funding" to underwrite the costs in future.
Asked about the latest adverts, a Lib Dem spokesman said the party recruited for the positions every four months and was being open about the pay and conditions to tackle the "secretive" nature of internships.
The spokesman also criticised the Conservatives for "auctioning placements to the highest bidder".
The party covers interns' travel costs and tries to help them find accommodation, he added.
Lower skilled jobs
At the latest count there were more than a million unemployed 16-24 year-olds in the UK, making competition for jobs intense. Internships are seen are as a foot in the door and way of getting experience - particularly in politics, the media and fashion.
But recent graduates are more likely to work in a lower skilled jobs than a decade ago, figures published by the Office of National Statistics show.
Almost one in five new graduates are now unemployed.
Jonny Medland, who worked as an unpaid intern in Mr Clegg's office, told the BBC last year: "They should definitely be paying people - every party should.
"If you're working for eight hours a day for weeks on end I struggle to see how you can defend not paying people."