MPs warn UK pollution outsourcing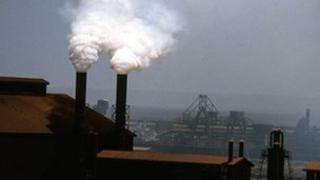 Carbon emissions from goods imported and consumed in the UK are rising faster than the domestic fall in greenhouse gases, MPs say.
'Outsourcing' of pollution overseas will tarnish the UK's record on carbon emissions, experts warned.
The UK's carbon dioxide emissions fell by 19% between 1990 and 2008, but its carbon footprint, based on what the UK consumes, grew by 20%.
The government say that a new deal on climate change should be agreed.
The cut in greenhouse gases since 1990 was the result of switching from coal to gas for electricity generation and the fact that what is consumed is more often manufactured in countries such as China - rather than because of policies to tackle climate change, the committee said in a report on Consumption-Based Emissions Reporting .
'Honest approach'
Energy and Climate Change Committee chairman Tim Yeo said: "Successive governments have claimed to be cutting climate change emissions, but in fact a lot of pollution has simply been outsourced.
"We get through more consumer goods than ever before in the UK and this is pushing up emissions in manufacturing countries like China."
The committee urged the government to consider consumption-based emissions in designing climate change policies and working out data on UK's greenhouse gas emissions.
Ministers should take a more 'honest approach' to Britain's overall impact on the climate in international negotiations on carbon emissions, Mr Yeo said.
The MPs asked the government to take on board its independent climate advisers, the Committee on Climate Change, to work out how the UK could incorporate emissions from imported goods in its policies.
A spokesman for the Department of Energy and Climate Change (DECC) said: "We account for our emissions according to international rules that are followed by all countries that are signed up to the Kyoto Protocol, and that are the basis for international negotiations on climate change."
The DECC believes it is difficult to calculate and verify figures relating to consumption-based emissions, and it would be hard to negotiate a global reduction treaty on this basis.
"Ultimately, the best way to reduce the UK's consumption emissions is to persuade all countries to manage down their territorial emissions through a global deal on climate change," he added.
Environmental charity WWF-UK's head of climate change Keith Allott said:" However you measure the UK's emissions, it's clear that a lot more needs to be done to reduce them through improving energy efficiency and decarbonising the power sector through renewables, and also by reducing and managing our consumption."