Green home improvements proposals 'dropped'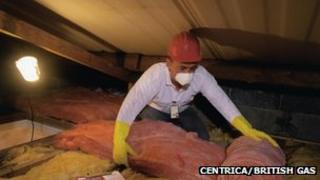 Plans to make anyone carrying out a loft or garage conversion pay more for environmental upgrades "will not happen", Downing Street sources say.
Proposals to require homeowners spend 10% of the value of any such work on energy efficiency improvements were unveiled in January.
It would extend rules for large developments to domestic improvements.
But senior Conservatives, including the prime minister, are reportedly opposed to the proposal.
Some critics have called the plans a 'conservatory tax', although the government says most conservatories will not be affected.
The Department for Communities and Local Government have been consulting on the changes to building regulations since January, when Lib Dem minister Andrew Stunnell said the coalition was "committed to being the greenest government ever".
Bonkers
According to the government there are around 200,000 domestic extensions and loft and garage conversions every year.
Under the plans homeowners would be compelled to spend 10% of the cost of their extension, or loft or garage conversion on draught proofing or insulation.
According to the Daily Mail , a source close to David Cameron said the plans were "bonkers" and "should never have been in the consultation".
Downing Street sources told the BBC: "This will not happen."
Tim Yeo, Conservative chairman of the Commons energy and climate change committee, told the BBC last week: "Compelling people who've applied for planning consent to make some alteration in their home to go down this route isn't necessarily going to help."
A Department of Communities and Local Government spokesman said the department had been "consulting on technical changes to building regulations, including energy".
Ministers would "consider the consultation responses carefully" before announcing their plans, he said.
The spokesman added that there were no plans to change regulations covering conservatories.
The government also stressed that plans for its flagship "Green Deal" programme were separate from the building regulations proposals and were not compulsory.
Under the Green Deal, private firms offer to make energy improvements to homes, then recoup payments from homeowners through additional charges on energy bills.
The consultation had suggested that it be "aligned" with the change in building regulations so that homeowners who did have to make energy efficiency improvements could take advantage of the deal "at no upfront cost".