Frank Field: Introduce new tests for social housing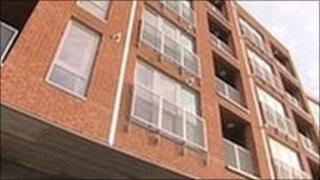 People who have made the "most contribution" to society should be given priority in queues for social housing, a Labour MP has urged.
Frank Field said long-term residents who had paid their rents and taxes should get "first choice", on the principle housing should be "earned".
Campaigners say foreign nationals get 40% of new housing in areas of London.
Ministers said councils should be able to set their own rules, taking into account the needs of "local people".
Mr Field has tabled a private member's bill which would introduce new measures to determine who should get social housing.
Currently, certain groups are given priority when it comes to social housing, such as the homeless, the elderly and families with children - as well those with refugee status.
To be eligible for social housing, most new migrants must be from the European Economic Area, or have leave to remain in the UK and they must demonstrate they have "settled status".
'Leapfrogging fear'
But the MP told the BBC that new tests should be applied, including how long someone had lived in an area, whether they had contributed to the community and whether they had paid their rents and taxes.
"It would be trying to return welfare to what Beveridge originally envisaged that it should be - that we should have a welfare state based on contributions rather than need trumping every other criteria," he told Radio 4's Today programme.
He said it was also fair to take into the account how applicants' children had behaved in the past, and any complaints from neighbours, to demonstrate whether families had an "exemplary tenancy" record.
The last Labour government said councils could exercise more discretion over housing awards, taking into account applicants' connections to the local community. But Mr Field said different councils had interpreted this in different ways, leading to inconsistency and confusion.
There was evidence that "good tenants were suffering" because others less deserving were "leapfrogging" them, he added.
"This is actually trying to say we should be much more careful, in any age of growing shortage of social housing and actually of welfare benefits, that those who contribute should not, as they are now, often find themselves discriminated against."
'Negative attitudes'
The Labour MP is an adviser to Prime Minister David Cameron on tackling poverty and educational under-achievement in the UK. But his bill is only likely to become law if it has the support of the government.
Official records show foreign nationals accounted for 8.6% of all new social housing tenants in England in 2010-11.
But Migration Watch - which campaigns for tighter immigration controls - believes the proportion of social housing going to foreign nationals may be "much higher" than indicated.
The group says that, while foreign nationals should be able to receive housing allowance, only British citizens should be allocated social housing.
It said statistics showed that in some London boroughs, such as Ealing and Haringey, the figure was higher than 40% in 2010-11.
It said the overall picture was confused because many councils did not record, or only partially recorded, the nationality of new social housing tenants and this should be compulsory in future.
'Greatest need'
The government wants to reduce the social housing waiting list - currently standing above 1.8 million households - and says it is wrong that anybody should be able to apply whatever their needs.
Housing Minister Grants Shapps said councils should be able to decide who qualified for social housing in their area to make "the system fairer and able to genuinely meet the needs of local people, while ensuring those in greatest need are given priority".
"I now fully expect councils to consider how housing in their area can go to those who have contributed to their local community," he said.
Members of the armed forces should also be given special consideration, he added, since serving personnel were too often discriminated against "because moving from base to base and living abroad leaves them without strong local connections".
A report commissioned by the Equality and Human Rights Commission in 2009 found a "lack of evidence" to back up suggestions that current rules favoured recent immigrants over UK citizens.
The Institute of Public Policy Research found that 90% of all social tenants were UK-born and those who had arrived in the UK in the previous five years made up less than 2% of all those in social housing.
It called for a debate on the benefits of immigration to address "negative attitudes" towards migrants and social housing.
Homeless charities say many families are being forced to wait years for a proper home at a reasonable rent and more affordable housing needs to be built as well as current accommodation improved.