'Sir Humphrey dominating policy,' claims Tory MP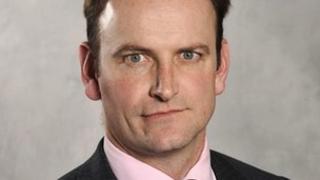 Civil servants - rather than elected ministers - are dominating government policy, an outspoken Tory MP says.
Douglas Carswell said an ex-Treasury official told him Budget plans such as the "pasty tax" and "granny tax" were "perennial proposals... [which] ministers would then veto. Until now."
Conor Burns, aide to the NI secretary, agreed, saying the "general point applies throughout government".
One Tory commentator said it was a controversial suggestion.
On his TalkCarswell blog, Mr Carswell, MP for Clacton, wrote: "A few generations back, Treasury ministers tended to write a lot of the budget themselves - often quite literally doing the maths."
Referring to the fictional civil servant from TV show Yes, Minister, he continued: "Today, it seems that the budget process is dominated by the Sir Humphrey-types, who present ministers with a menu of 'either/or' policy options.
"Stale ideas get re-cycled. Bold ideas left out altogether. Little scope for original thought. If you are only prepared to contemplate what Sir Humphrey puts in front of you, you are pretty much guaranteed never to be bold."
Among plans criticised from the Budget were the so-called pasty tax, which will see 20% VAT added to the price of hot savoury food from October.
Mr Carswell wrote: "What do the so-called 'pasty tax,' 'granny tax,' child benefit cliff edge and the reduction in tax breaks for charitable giving all have in common? They were all in the budget, right? Yes. But they have something else in common, too.
"According to an ex-Treasury special adviser I've been speaking to, these measures were precisely the kind of perennial proposals that top Treasury officials would put in front of ministers - and ministers would then veto. Until now."
Responding on Twitter, Conor Burns , the Parliamentary Private Secretary to the Northern Ireland Secretary Owen Paterson, wrote: "The more I encounter I think general point applies throughout Government".
Influential Conservative commentator Tim Montgomerie replied that he thought this was a controversial thing for a PPS to say, given they are expected to be loyal to the government.
He wrote: "Uncontroversial to say Yes Ministerism exists, quite controversial to say your govt is giving in to it (which, I agree, it is)."