Miliband says Labour 'will not forget' Bradford loss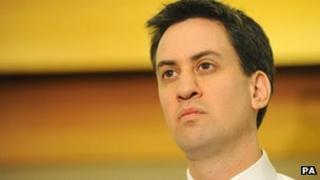 Ed Miliband has said Labour's defeat in last month's Bradford West by-election cannot be "dismissed as a one-off".
The Labour leader, who has promised to personally lead the inquest into his party's surprise defeat by Respect's George Galloway, met a group of 100 party supporters in the city.
He admitted his party had not been "engaged" enough in the community nor "understood" some of its problems.
Mr Galloway, expelled by Labour in 2003, won by more than 10,000 votes.
Labour had held the Bradford West seat comfortably in the 2010 general election and the defeat prompted questions about the party's campaign and Mr Miliband's ability to connect with sections of the electorate.
In the wake of last month's loss, the Labour leader said he would visit the city at the earliest opportunity to try to learn why voters had abandoned his party and how it could begin to regain their support.
'Dialogue'
Asked what he had learnt from Thursday's visit, Mr Miliband said people had voiced concerns about the record of the local council, in particular its attempts to regenerate the city centre and bring in new jobs.
Foreign policy issues, particularly the then Labour government's support for the 2003 Iraq war, had also cropped up, he told the BBC.
"Every constituency in this country must have a Labour Party engaged and understanding the community. That clearly did not happen in Bradford. We have to put that right in Bradford and have got to make sure that Labour is engaged with every community in every part of this country and every part of this region."
Mr Miliband said a number of Asian women had asked for a continuing "dialogue" with him on a range of issues and he would be returning to the city to speak to them again.
The defeat was partly blamed on disaffection among the large number of residents of Pakistani origin - especially women and young people - about the conflicts in Iraq and Afghanistan and Labour's economic policies.
"Labour is not just going to hope to move on from this and forget all about it," he added. "We are going to learn lessons from Bradford West.
"We are not going to dismiss it as a one-off. There are issues here we have to take seriously and we will."
Respect said it won the backing of all sections of the community and the party hopes to take seats on Labour-controlled Bradford Council at elections next month.