PM 'relaxed' about ministers' tax returns being public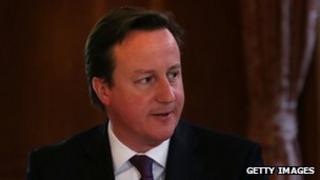 The prospect of senior ministers having to publish their tax returns has moved a step closer after it emerged David Cameron supports the idea in principle.
Ever since the candidates for London mayor agreed to publish at least some of their tax affairs, MPs have been asked why they should not do likewise.
Chancellor George Osborne raised eyebrows among some cabinet colleagues by saying he would not set his face against greater tax transparency.
He said the practice happens in the US.
Now it has emerged that his boss, the prime minister, is equally happy with the idea.
Sources close to Mr Cameron, who is on a trade and diplomatic trip to Asia, said he was relaxed about the idea of tax returns of senior cabinet ministers being published.
But they made clear he first wanted the opportunity to explore how this might work in practice.
In truth, few in government expect any early action on this.
Some suspect the Conservatives are encouraging speculation to put pressure on the Labour mayoral candidate Ken Livingstone to reveal more of his own tax affairs - the circumstances of which prompted the whole debate in the first place.
Four of the Mayoral candidates - Mr Livingstone, Conservative Boris Johnson, Lib Dem Brian Paddick and the Green Party's Jenny Jones - published their tax records after the Conservative and Labour candidates clashed last week.
Although the personal finances of senior figures in the US are often released to the public, the move would be unprecedented for a prime minister still in office.
The prime minister receives a £142,500 salary, but Downing Street has previously refused to confirm whether Mr Cameron pays the top rate of tax.
'Invasion of privacy'
Labour have been pressing ministers to say whether they earn more than £150,000 after the government announced in last month's Budget that it would cut the tax rate on incomes above that level from 50p to 45p next year.
A Labour Party spokesman said they would consider any proposals No 10 brought forward on publishing personal tax details and "match anything the government actually does".
"We are in favour of more openness and transparency in politics," he said.
"The real issue now is not anything as complicated as tax returns. It is ministers coming clean about whether they benefit themselves from the tax cut for millionaires introduced by George Osborne in his Budget."
Campaign group, The Taxpayers Alliance, said the underlying problem was the complexity of the tax system not what individuals - including politicians - earned.
"It is inevitable that we have seen calls for politicians to disclose their tax affairs but it is a huge invasion of privacy," the organisation's research director John O'Connell said. "A complex tax system means that not everyone pays their fair share and wholesale tax reform is the ultimate answer to this question."