Wealthy abuse charity donations to cut tax, says No 10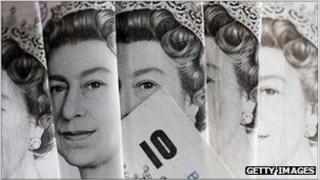 Some wealthy people are donating to charities which do not "do a great deal of charitable work" in order to cut their tax bills, Downing Street says.
It follows a row after Chancellor George Osborne's Budget decision to cap tax relief on charitable donations.
Mr Osborne said on Tuesday he was left shocked by the scale of legal tax avoidance by multi-millionaires.
But the Charities Aid Foundation said major donations to charity were "not a ploy to save tax".
When higher rate taxpayers donate money to charity, some of the tax can be reclaimed. Effectively they could pay no tax at all, if they choose to give away their income to charities.
'Shocked'
But Mr Osborne announced in the Budget that from April 2013 the maximum amount that will be able to be reclaimed in tax relief - including on charitable giving - is £50,000 or 25% of the individual's income, whichever is the greater.
The decision has been criticised by some charities - and there was further criticism of an interview Mr Osborne did with the Daily Telegraph on Tuesday about wealthy people avoiding taxes.
The chancellor told the newspaper he had been "shocked" by the scale of legal tax avoidance by the very rich, after seeing the result of a confidential study by HM Revenue and Customs.
The study said the use of tax reliefs on charitable donations was among the top three tax loopholes used to legally reduce income tax bills.
'Distrustful'
The interview was criticised by leading philanthropist Dame Stephanie Shirley, who said it was wrong to suggest wealthy charitable donors were trying to avoid paying tax.
"The Treasury has always been rather distrustful of the philanthropists," she told BBC Radio 4's The World At One.
"To look at philanthropists as if they were just being tax avoiders is really rather disgusting."
And John Low, chief executive of the Charities Aid Foundation, said: "Whoever is advising the chancellor is quite wrong to equate tax relief on major donations to charity with tax avoidance.
"This is not a ploy to save tax. Philanthropists who make large donations give away far, far more than they could ever claim in tax relief. That money goes to fund projects for the public good, such as medical research and help for the most vulnerable in society."
He said a blanket cap "will cost charities millions of pounds by making it more difficult for philanthropists to make major donations" adding: "We should recognise and celebrate today's great philanthropists, not brand them as wealthy tax dodgers."
Bills 'wiped out'
But the prime minister's official spokesman defended the decision to cap tax reliefs on charitable donations, saying change was needed to prevent "abuse" of the system by some wealthy people.
"In certain instances they may be giving to charities and those charities don't, in all cases, do a great deal of charitable work," he said. Some of those charities were operating abroad, he suggested.
"The reason that the chancellor decided to bring in the cap was that certain individuals in this country on very high incomes are exploiting these reliefs to reduce their tax bills.
"We cannot be in a situation where very wealthy individuals are able to wipe out their bills by using these reliefs.
"We don't think it is right that someone on a very high income is paying far less tax than the average family in this country."
In his Budget speech, Mr Osborne stressed that "most rich people pay a lot of tax" and said it was right to have tax reliefs promoting investment and charitable giving.
But he added: "It can't be right that some people make unlimited use of these reliefs year after year.
"Everyone in this country and particularly those with the highest incomes should contribute a fair share to the exchequer."
A new definition of a charity for UK tax purposes was introduced in 2010 which includes a requirement for the managers to be "fit and proper persons" and HM Revenue and Customs says it does tackle abuse of donor charitable reliefs through "sham" charities.