David Cameron 'to visit Burma' after landmark elections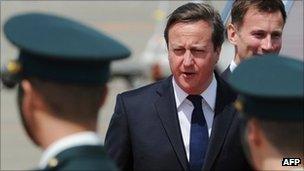 UK Prime Minister David Cameron is expected to visit Burma this week as part of his tour of South East Asia.
He will be the first Western leader to visit the country since since Aung San Suu Kyi's election to Parliament.
The pro-democracy leader's party won a landslide victory in by-elections on 1 April - prompting the US and EU to talk of easing more sanctions against Burma.
From 1962 to 2011, the country was ruled by a military junta that stifled almost all dissent.
But the installation of a nominally civilian government in March 2011 and a series of reforms since - including the release of hundreds of political prisoners - has led to speculation that decades of international isolation could be coming to an end.
US Secretary of State Hillary Clinton made a landmark visit to Burma in December 2011.
And since by-elections on 1 April, in which Aung San Suu Kyi's party, the National League for Democracy, took 43 out of 45 seats, the US has announced it will further ease sanctions against Burma.
The European Union also looks set to ease restrictions further, having already lifted travel bans on more than 80 senior officials.
Downing Street says it will not confirm Mr Cameron's travel plans. He is currently in Japan on the first leg of a tour of East and South East Asia, largely aimed at boosting trade with the UK.
Jim Della-Giacoma, South East regional director of the International Crisis Group, an organisation which seeks to prevent conflict, told BBC Radio 4's Today programme: "It's something of a bold move by the British prime minister.
"It would have been a much more courageous move to do this before the election but since the landslide of the National League for Democracy and Aung San Suu Kyi's election to Parliament, it seems like Mr Cameron is probably going to beat the rush."