Thurrock poll 'backs EU referendum'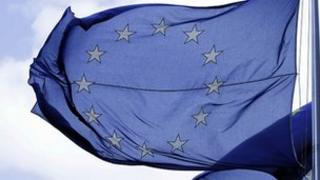 Nearly 90% of those who voted in a public poll over Britain's membership of the EU have backed calls to stage a referendum, campaigners say.
Some 14,590 people in Thurrock, Essex, returned postal ballot papers or voted electronically - a 30% turnout - said cross-party group People's Pledge.
Of those, 13,111 said there should be a referendum on the issue.
The results are not binding. Ministers have pledged a referendum - but only if further powers pass to Brussels.
People's Pledge plans another 11 similar votes, conducted by Electoral Reform Services, across the UK this year.
'Heads in sand'
Pledge director Ian McKenzie said the Thurrock result indicated Westminster parties should rethink their attitude on a national referendum.
"Heads in sand is no longer a viable strategy," he said.
The People's Pledge campaign has been backed by numerous Conservative and Unionist eurosceptics.
And Labour figures like eurosceptic Natasha Engel and pro-European Keith Vaz have also given their backing.
The leadership of the UK's three biggest parties in Westminster have rejected calls for a public vote on EU membership.
Last year, the House of Commons supported that view but only after 81 Conservatives, 19 Labour and one Liberal Democrat MP rebelled.