Consultation closes on English constituency boundary plans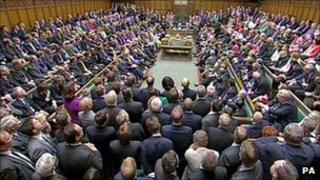 Consultation has closed on the latest stage of proposals to change parliamentary constituency boundaries in England.
The government wants to cut the number of MPs UK-wide from 650 to 600 and for all constituencies to have a similar number of registered voters.
Some proposals are controversial, with historic constituencies set to go.
Revised plans will be published later this year by the UK's Boundary Commissions, to be finalised in 2013.
The commissions of England, Scotland, Wales and Northern Ireland are reviewing constituency boundaries, under rules set out in theParliamentary Voting System and Constituencies Act.
Figures in the December 2010 electoral register suggest that, if evenly divided across constituencies, each seat should have 76,641 voters.
Boundaries are being withdrawn so each constituency is within 5% of that figure - or has between 72,810 and 80,473 voters - with four exceptions: The Western Isles, Orkney and Shetland and two Isle of Wight seats.
The coalition argues that, on current boundaries, some votes were worth more than others - because there were a lot more voters in some seats than others. For example Manchester Central had 85,522 registered voters while Glasgow North had just 50,588.
Labour had argued that the changes were politically motivated - as their MPs tend to represent areas with fewer registered voters and they were therefore likely to lose out the most.
And individual MPs, many of whom face a fight for their political futures as their seats could be merged with neighbouring constituencies, have complained about the proposals. Business Secretary Vince Cable, whose Twickenham seat faces being split, is among thoseto speak out. Labour's Andy Burnham has complained his Leigh constituency could beripped "to pieces".
On the current plans, Wales is set to lose 10 of its current 40 seats, Scotland will go from 59 seats to 52, Northern Ireland will lose two of its 18 seats and England will go from 533 to 502 constituencies.
In England only 77 out of the current 533 seats will see no changes under current proposals - and some have proved particularly controversial. A proposal for a Bideford and Bude constituency straddling the Devon and Cornwall border - dubbed "Devonwall" - has prompted a"Keep Cornwall Whole" campaign.
John Curtice, professor of politics at Strathclyde University, told BBC Radio 4's Today programme there were also often tensions within parties between individual MPs trying to defend their seats - and parties trying to think about the "bigger picture".
He said: "Undoubtedly these new boundaries will be advantageous to the Conservatives, as compared with the old boundaries."
Under the old boundaries, he said: "If the two parties had exactly the same share of the vote, across the whole of the UK, the Labour Party would still end up with 51 more seats than the Conservatives. And the Labour Party needed only about a two or three-point lead in votes in order to get a majority, the Tories needed about 11.
"Under the new boundaries, that advantage will be less, but it will not be removed. If the two parties get roughly the same share of the vote, Labour are still likely to end up with around 26 more seats than the Conservatives."
That was because, the turnout in Labour-held areas tended to be lower, he said, so Labour could get fewer votes nationally overall, but still win a majority.
Proposals for boundaries for 502 constituencies in England was published last year and a series of public hearings was held last autumn. A further public consultation, on feedback gathered during those hearings, closed on Tuesday.
The commission will now consider both sets of feedback and publish a revised set of proposals later in the year.
The process is being done much more quickly than the previous boundaries review - which took seven years - in order that the new constituencies are in place in time for the 2015 general election.