Charity chief quits government welfare panel over incapacity tests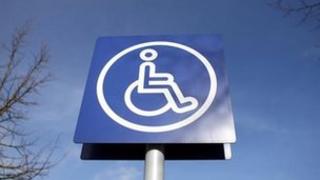 The head of a mental health charity has left a government panel implementing changes to the welfare system, describing them as "deeply flawed".
Chief executive of Mind Paul Farmersays he quitbecause ministers refused to listen to his criticism of the current fitness-to-work test.
But the employment minister said Mr Farmer was asked to leave after Mind began legal action over the tests.
They determine if people are eligible for Employment Support Allowance (ESA).
ESA became the new benefit on 31 March 2011 for all new claimants who are unable to work due to incapacity or illness.
The government iscurrently reassessing all those seeking to claim it,and says that of the first 141,000 reviewed, 37% are fit to work.
Unions, however, say the test is designed purely to move people off benefits, "whatever the cost".
'Crude'
Mr Farmer told the BBC the 37% figure was "likely to be overstated" and he had resigned because his concerns, as part of the four-person advisory panel, were not being "appropriately listened to".
"The test itself is not fit for purpose. It's extremely crude," he said.
Some 50% of people deemed fit to work have appealed against the decision and 50% of those have been successful, Mr Farmer said.
"So this is costing huge amounts of money to the country, but more importantly it's causing huge amounts of distress to people with mental health problems."
Mr Farmer said if the process was "more supportive and less terrifying for people" then his charity "would recognise that a lot of people with mental health problems do want to work".
"But we would much prefer that, especially given the current economic situation where there are not many jobs available for people, particularly those people with disabilities, that this process was slowed down, got right, so that people felt it was fair."
He added: "The Work Capability Assessment really is letting people down... so it's not right for me to be seen to be associated with it."
Employment minister Chris Grayling told the BBC he was informed last week "very much out of the blue" - and to his "surprise and disappointment" - that Mind had begun legal proceedings against his department to try to stop the testing process.
If the legal challenge was successful, he said, it would "bring to a grinding halt" reassessments of existing claims and assessment of new claims. He said this would mean the government would have to give new claimants access to benefits "without conditions".
"Now Mind are, of course, entirely entitled to be involved in taking legal action against us," he said. "But it's difficult to see how somebody can be chief executive of an organisation that's doing that and - at the same time - be advising our independent review on this whole process."