MPs criticise UK's 'unwise' approach to EU fiscal pact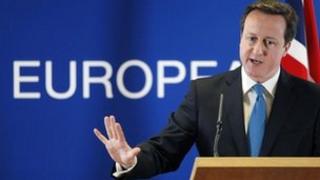 The government is being "profoundly unwise" in its approach to the new EU fiscal pact, a group of MPs has said.
The European Scrutiny Committee said ministers clearly had reservations about the pact's legality but had not said what action they planned to take.
It also warned that the pact may be "politically impossible to enforce" and "some form of breakdown of the eurozone clearly remains possible".
The UK refused to join 25 other EU nations in signing up to the agreement.
The aim of the Stability, Co-ordination and Governance Treaty - which was also vetoed by the Czech Republic - is to bring about much closer integration of budget policy across the EU to prevent excessive debts accumulating.
'Unsatisfactorily unresolved'
In December, Mr Cameron suggested the European Court of Justice and the European Commission must remain for the use of all 27 EU states, and not for the fiscal pact countries alone.
But he later said he would not veto any efforts to use the court to enforce the accord - despite there being "legal questions" about such a move.
The PM said he would "watch closely" to see how the court was used and if necessary, would take legal action "if our national interests are threatened by the misuse of the EU institutions".
But the the question of what the government intends to do "remains unsatisfactorily unresolved".
Chairman and prominent Conservative Eurosceptic Bill Cash said: "Politically and legally, it is profoundly unwise to suggest taking action, and then not to explain how it intends to carry it through, or what concessions are now being sought and achieved.
"The approach to this treaty provides further and ever more disturbing evidence of the European Union - in the context of increasingly coercive attitudes by Germany and France and the European establishment in pursuit of further and deeper political and legal integration - dangerously ignoring its own precepts for political ends.
"The government must clearly state as soon as possible what action it now intends to take on the treaty."
The committee said it believed the treaty "does little towards solving the eurozone crisis, other perhaps than providing some comfort to international markets".
"Moreover it is possible that the treaty will prove to be politically impossible to enforce. As undesirable as it may be, some form of breakdown of the eurozone clearly remains possible."
The report does endorse the prime minister's veto last December, but says the Foreign and Commonwealth Office "was less than co-operative" in helping committee members scrutinise the fiscal pact on behalf of the House.