Low-paid council workers fail to get pay rise, says union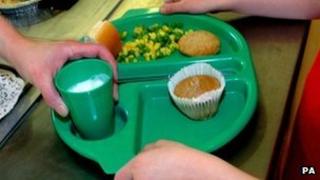 Union leaders have accused ministers of reneging on a promise to give low-paid council workers a pay rise of £250.
Public service union Unison said the staff in England, Wales and Northern Ireland had not received the money.
Unison said the situation would leave local government employees worse off in real terms than they were 16 years ago.
The Treasury said the government could not dictate what councils paid workers but they should try to protect them from the effects of the downturn.
Dinner ladies
In June 2010, Chancellor George Osborne saidbecause he was implementing a two-year pay freeze, public service workers earning less than £21,000 would get a "flat pay rise" of £250 during each of those years.
He said this would benefit just over a quarter of public sector workers who were "on the very lowest salaries".
But the union said this money had failed to materialise for hundreds of thousands of low-paid, mainly women workers employed as carers, school dinner ladies, cleaners and teaching assistants.
Unison national officer Heather Wakefield said: "It is a disgrace that George Osborne has tried to fool local government workers and the public into believing he cared enough about the hardship of low pay to announce he would cushion the impact of the government pay freeze."
Unison said council workers had suffered a 15% pay cut in three years and now earned a "shocking" 10% less in real terms than in 1996.
Ms Wakefield added that she had written to Mr Osborne to check whether it applied to local government workers, and he had replied "yes".
She said it was up to the government to ensure local authorities have the funding to cover the pay rises.
Pay freeze
Last month, the Local Government Association confirmed a third consecutive annual pay freeze for 1.6 million local government employees in England, Wales and Northern Ireland for 2012-13.
It said increased salaries would result in more job losses and service cuts.
The chancellor announced in November that a wider public sector pay freeze, due to end in 2013, would be followed by a 1% cap on rises for the following two years.
Public sector workers earning less than £21,000 were also promised a £250 pay rise this year.
But local government pay is negotiated separately between employers and unions, via the National Joint Council for local government services, and council staff did not get the rise.
A Treasury spokesman said: "Local government pay is a matter for negotiation and agreement between local authorities and unions.
"But we have made clear that we expect local government to show restraint on pay in line with the rest of the public sector as well as seeking to provide the lower paid with some protection from the impact of pay restraint."