Fuel crisis: But they said 'don't panic'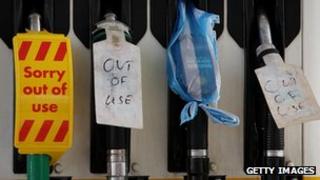 So who says the government isn't getting its message across?
In the past few days they've succeeded in getting people to buy almost twice as much petrol as they were last week.
That was their aim - as I wrote in yesterday's post - so that the impact of strikes could be minimised.
There is, of course, just one one small fly in the ointment. There are now queues, petrol station closures and angry motorists despite the fact that there are no, well, strikes.
Their "don't panic" message produced what you and I might call panic.
But is it time for the Tory Party to panic? There are certainly good reasons for them to be very concerned.
There are a lot of things which excite huge interest among politicians and journalists in Westminster but which raise barely a flicker of interest amongst most voters. Petrol and pasties are two exceptions to that. Presiding over a panic about one and a price rise of the other is very bad politics
The petrol and pasty crisis is being fuelled - or should that be heated up - by The Sun - Britain's biggest newspaper, which now has a proprietor who's got it in for David Cameron
A week of tax cuts for the rich, £250,000 donor dinners, tax rises for those whose idea of a good lunch is a hot pasty, pie or sausage roll, and talk of jerrycans and garages has undermined the Conservatives "we're all in it together" rhetoric
These self-inflicted mistakes have shown not just a lack of political nous behind the scenes but a lack of decent frontmen who look and sound like they live in the world occupied by most voters
Ed Miliband has been given the chance to look statesmanlike and - even when at a pasty-chomping photo opportunity - he's taken it
All this, of course, is what happens to governments. It's why we used to speak of governments having mid-term blues. These moments pass.
What should, perhaps, worry them more is the signs - far from definitive - that the economy is flatlining.
With or without a tanker drivers strike, petrol could turn into one of the key stories of the year. Fears of an Israeli conflict with Iran could drive up oil prices, prices at the pump and end hopes of an economic recovery.
Now that really would be something to panic about.