Labour's Liam Byrne wants to run for Birmingham mayor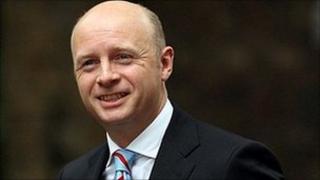 Liam Byrne has said he will resign from the shadow cabinet if Birmingham votes for an elected mayor, as he wants to be the Labour candidate for the role.
In a letter to leader Ed Miliband, Mr Byrne said he hoped to lead Birmingham to a "better future".
The Birmingham Hodge Hill MP has been Labour's spokesman on work and pensions since October 2010.
Birmingham is among English cities holding a referendum on whether they want a directly-elected mayor on 3 May.
Fellow Labour MP Gisela Stuart, MP for Edgbaston, former Labour MP Sion Simon and Sir Albert Bore, leader of the Labour group on Birmingham Council, have also been linked with the Labour candidacy.
But the party will not begin a formal selection process until the outcome of the referendum vote is known.
'Values and experience'
If Birmingham decides to have an elected mayor, Labour and the other political parties are expected to hold ballots to select their candidates in the early summer.
Mayoral elections are then scheduled to be held in November - on the same day as elections for police commissioners.
Informing Mr Miliband of his intention to put his name forward as Labour candidate in the event of a "yes" vote, Mr Byrne said he was "passionate about local government".
"I believe that I have the values, the experience and the priorities to lead our city to a better future."
The Labour leader has agreed Mr Byrne will remain in his top team if the referendum proposal is rejected.
"I understand the attractions the post of mayor of the second biggest city in the country has for you," Mr Miliband said in his reply, praising Mr Byrne's "insight, strategic thinking and deep commitment" to Labour.
Mr Byrne was number two in the Treasury under the former Labour chancellor Alistair Darling, having held a range of ministerial positions under Gordon Brown and Tony Blair.
The MP, who has represented his Birmingham constituency since 2004, famously left a note in the Treasury before the 2010 general election telling his successor that "I am afraid there is no money left". He later apologised, describing the comment as "flippant".
Mayoral referendums are also being held in nine other cities, including Manchester and Newcastle.
In Doncaster, which already has an elected mayor, residents will be asked if they want to keep the current system.