Westminster interns on the House of Commons they now know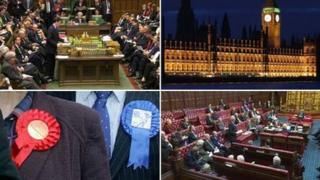 Ten interns started working for MPs in Westminster five months ago - the first intake of a scheme designed to break down barriers to those from different backgrounds. How has it gone?
The shiny-eyed optimism of a few months ago has definitely dulled somewhat, and for some, the opportunity has proved what they don't want to do - as much as what they do.
For others, however, the experience has clearly strengthened their passion for politics and their desire to make it a career.
Without exception, the Speaker's Parliamentary Placements Scheme has given all 10 an experience they would almost certainly never have had otherwise.
Kay Nuttall - who's been working for the scheme's creator, Labour MP Hazel Blears - has upped sticks from Salford with her five-year-old son to take part.
"I found it hard at first," she admits. "I found it a very intimidating place because I felt like I was different from everybody, but I love it now. My confidence is so much better."
Kay, 28, can't afford to stay in London once her placement is over, but she hopes to carry on the work she's started on early intervention.
"I think it can make a massive difference to a family's life - especially explaining the importance of a good education.
"I think it comes from my own background - when I left school I went off track for a while, but when I got pregnant I went to college and university and decided to change it around."
Different world
Those taking part aren't all fresh out of top universities, and they don't have wealthy parents and or come from the south-east of England - in other words, not the typical Westminster breed.
They're all paid - a pro-rata salary of £17,500 - and get the offer of subsidised accommodation.
The scheme is set to continue and hopefully expand next year, and the idea is that eventually treating - and paying - interns like this will become the norm in Westminster, not the exception.
The interns have taken on a range of tasks for their MPs - handling constituency inquiries, drafting speeches, doing research - although they admit that a lot of their time is spent working through the baffling protocol and language that Parliament throws up.
As 54-year-old Alan Kean puts it: "You can't bring much experience from outside because everything here works in a different way - a way that often goes in the face of common sense.
"Most of the time you're trying to find information - sometimes really obscure - and it's not always where you expect it to be.
"You have to do a lot of detective work, or you've got to know someone - that's the biggest advantage working here in the House of Commons, you get to know the right people to ask."
Kay adds: "If you want to put your own views across you need to find out how to do that in the language of politics. No-one will be prepared to listen to you if you've not got the correct language.
"Once you do know, you can hopefully make a difference in the future."
Who you know
The scheme's laudable aim - which it has clearly achieved - is to give ordinary people a route in.
What it hasn't done, however, is guarantee them a permanent job - and some of the interns seem slightly downcast at the realisation that there's still a system to work, albeit from just inside, rather than outside, the door.
Alan says: "It's still a question of how far up the ladder you know people. It's easier for us internally, but still it's difficult to get that first job."
Amy Chappel, 25, from Liverpool - who is working for Labour MP Siobhain McDonagh - goes on: "I dislike this whole who-you-know ethos. I wouldn't want to get a job because I knew someone, I'd want to get it because I was the best candidate for it.
"But even though this internship is supposed to dispel that, it's still there. You're sort of becoming a product of what you wanted to get rid of."
Fifty-three-year-old football coach Derek Sewell, from London, says: "I thought it would be easier being inside but it's not. I've applied for a few jobs and really got nowhere so far.
"I want to work for the House and I feel like I've got a lot to offer."
Matthew Baird, 22, from, Portadown, says: "I love my job, it's sometimes long hours, but I love it and I'd like to stay here for a couple of years at least.
"I've applied to three different offices, including David Cameron's, and got rejected from all three. I didn't expect to get David Cameron's office - I was shooting for the stars there - but it would be such a let down to be so close and still not get a job."
Alan adds: "It's like I said about different rules applying. For somebody like me, as a trade unionist, a shop steward, I was always dealing with employment issues and here you just really wouldn't know where to start.
"There's also a conspiracy of silence - even people who are treated badly don't say anything because their career would be dead - and that's where we can maybe play a part by talking about it.
"The more I get into it the more I think I would actually like to stay in an MP's office, maybe as office manager, but I do think there's an element of trying to change something as well. I wouldn't just keep quiet."
Getting a lift
James Wallace, 22, is the most upbeat and enthusiastic about his placement and the future.
He's been working for Ed Miliband - "chasing burglars", he jokes, referring to a break-in at the building - and says he's definitely going to work with the Labour Party when his internship finishes, whether in Scotland or in London.
He says he's particularly enjoyed gearing up to the Budget and doing PMQs prep - although he jokes that he hasn't been writing any gags for his boss: "I haven't got a quick enough wit for that."
All of the interns say they've had plenty of time for some fun in between the hard work - Derek, for one, has started singing in a parliamentary choir - and some have also had a few embarrassing moments.
"I got stuck in a lift, people were waiting but the doors weren't opening, it was just going up and down. They were all shouting as though it was me - I was just laughing to myself," Kay says.
Amy adds: "I love Alistair Darling and I got in a lift with him the other day but I didn't have my security pass on or any shoes - I always walk around in bare feet if I'm going to the photocopier.
"He must have looked at me thinking: Who's this crazy girl? He couldn't get out of the lift fast enough!"