UK must end overseas aid spending target, say peers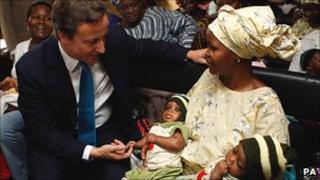 The government should do away with its commitment to spend 0.7% of national income on overseas aid by next year, a parliamentary committee has said.
Ministers want to make the pledge, given to the UN, legally binding.
But the Lords Economic Affairs Committee called this "inappropriate", arguing the focus should be on the effectiveness of projects rather than an "arbitrary spending target".
The government said cutting the aid budget would cost lives.
Critics of overseas aid say too much of it is being siphoned off by corrupt regimes.
They also say money is being misdirected, with some countries in the most need of help not getting enough, while others, including India, receive too much.
'Corrosive effect'
Last year, the government promised to end direct help for 16 countries - including Russia, China and Serbia - and focus more on "fragile states" such as Pakistan.
The overall target of spending 0.7% of gross national income was adopted by donor nations - including the UK - at the United Nations, in 1970, but few have reached it.
The government spent 0.56% on aid in 2010 and is planning legislation to make the target legally binding.
The committee warned this represented a "37% real-terms increase".
It argued that this would "wrongly prioritise the amount spent rather than results achieved" and risk "quality, value for money, and accountability".
It also complained that a lack of accountability would "increase the risk of a corrosive effect on political systems in recipient countries".
The committee's chairman, Conservative Lord MacGregor of Pulham Market, said the peers "wholeheartedly" backed humanitarian aid.
But he added: "We were unanimous in our view that legislation for a 0.7% target for overall aid spending is inappropriate, and that the government should reconsider the target itself.
"We believe that development aid should be judged by the criteria of effectiveness and value for money, not by whether a specific arbitrary spending target is reached."
'Safer'
However, the committee welcomed the government's decision to run down aid programmes to some countries and urged an "early exit strategy" from projects in India.
International Development Secretary Andrew Mitchell said: "We welcome the committee's ringing endorsement of the tough reforms the coalition government has made to get maximum value for money from British aid.
"The British government makes no apologies for sticking to its commitments to the world's poorest people.
"Spending less than 1% of our national income on aid - an internationally agreed target - will create a safer and more prosperous world for the UK.
"And it will get 11 million children into school, vaccinate 55 million children against preventable diseases and stop 250,000 newborn babies dying needlessly.
"Going back on this promise would cost lives."