Miliband pledges to publish list of donor meetings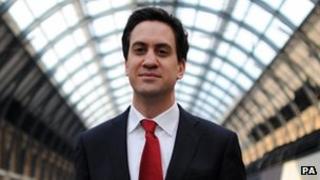 Ed Miliband has said he is "very happy" to publish details of all meetings he has had with major Labour Party donors.
The opposition leader said he wanted to be "open and transparent" about his links with Labour's financial backers.
David Cameron published details on Monday of all meetings he had at No 10 and Chequers with Conservative donors giving the party more than £50,000.
He acted after the party's co-treasurer claimed major donors could get access to No 10 dinners with the PM.
Peter Cruddas quit after reporters filmed him saying those giving large sums to the party could also gain influence at No 10's policy committee, something the Conservatives have strongly denied.
'Proper inquiry'
Mr Miliband is continuing to press for an independent inquiry into the revelations, saying the internal party inquiry announced by Mr Cameron - to be undertaken by Tory peer Lord Gold - is insufficient.
"Let's be realistic about what's happened here," he said during a campaign event in London.
"We have got an issue about the way in which government is being conducted, the way in which Downing Street is being used and that is, I think, what has concerned people, Downing Street, Chequers, the way that those government buildings have been used.
"That's why we need not just proper transparency from the government, we also need a proper inquiry, an independent inquiry in to what happened."
Asked whether he would follow Mr Cameron's lead and publish details of private meetings with major donors, he said: "I am very happy to publish and very happy to be transparent about what we do, who we meet... I'm very happy to be open and transparent about what we are doing."
BBC political correspondent Carole Walker said the list could be published by the end of the week.
No 10 dinners
After apparently appearing reluctant to do so, Mr Cameron revealed on Monday there had been four occasions in which he had invited "significant" Conservative donors to No 10 since becoming prime minister.
These included three dinners in his Downing Street flat between February 2011 and February 2012 and a post-election celebration in Downing Street in July 2010.
Details of meeting with donors at Chequers, his official country residence in Buckinghamshire, were also disclosed.
Mr Cameron insisted that none of these dinners had been fundraising events nor had they been paid for by the taxpayer and that he had known most of those attending "for many years."
In future, Mr Cameron said the Conservatives would publish details of all meals with donors, whether at No 10 or Chequers, on a quarterly basis as well as a register of all meetings with those who have given money.
Spending limits
Deputy Prime Minister Nick Clegg, who is attending a nuclear summit in South Korea, said there was "nothing wrong" with party leaders meeting financial backers and raising money themselves for their party.
"It is an entirely legitimate thing to do," the Lib Dem leader said. "What we need to make sure is that it is done in an entirely appropriate and transparent manner and that we reform party funding so there is no shred of doubt left in the public's mind that everything is done in a proper and above-board way."
Campaigners for reform of party funding said there was a need for "real leadership" to break the deadlock over the issue.
Peter Facey, from Unlock Democracy, said three crucial steps were needed to increase public confidence.
"We believe there should be an annual cap on donations which is to be phased over an electoral cycle, to allow the parties to cope with the transition," he said.
"The national spending limits during an election should be lowered so that parties do not bankrupt themselves trying to outspend their rivals in marginal seats.
"Finally, the way in which trade unions collect and pay affiliation fees needs to be reformed."