Planning overhaul: How will Shakespeare's birthplace fare?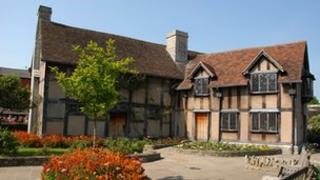 Shakespeare called England "this blessed plot".
So where better than his birthplace to consider the impact of proposed planning rules?
Stratford-upon-Avon, in Warwickshire, has similar issues to many of our beautiful towns and cities. The question is how to combine the protection of heritage and nature with adequate housing and a dynamic economy.
The government's new planning framework is supposed to provide the some of the answers. It boils down more than 1,000 pages of complicated rules to a guide of just 50 pages.
In his Budget last week the chancellor called it the "biggest reduction in business red tape ever undertaken". George Osborne thinks that far too many business ideas are "killed off" by the planning system before they even get off the ground.
On the edge of Stratford, I visited a new sheltered housing development which backs onto lush green fields that might have inspired "the Bard" himself.
'Long-winded'
David Taylor, an architect, told me that it took two years to get planning permission for a development, but less than a year actually to build it.
Such agonisingly slow progress will be familiar to lots of home owners who have tried to get consent for much smaller-scale projects - be they conservatories or loft conversions.
Mr Taylor says the key problem is uncertainty. How can you plan a building or manage a project if you cannot predict how long the planning application will take?
"It's a very slow, long-winded process and very bureaucratic as well," he said. "It's very frustrating and time-consuming."
The planning system is there to protect the quality of neighbourhoods and the open countryside. Anyone who has been dismayed by a new construction on their street or just outside their town will recognise the importance of restrictions.
The question is how to balance such controls with the freedoms needed to get things done.
When the draft planning framework was published last year, countryside campaigners reacted with dismay. Their chief concern was a new presumption in favour of "sustainable development".
'Weak policy'
That was taken to mean that a building project would go ahead unless it was specifically blocked by a Local Plan drawn up by the relevant council. The National Trust and other groups voiced their fears that this might turn into a developers' charter and unleash urban sprawl.
Ministers said those concerns were overblown. They argued that protection for the green belt and areas of outstanding natural beauty would remain. Ah yes, said campaigners, but what about the rest of the countryside?
The revised planning framework is, though, being presented as an unashamedly "pro-growth" document. Those in government hope that a simpler, faster system will lift the long-term performance of the economy.
At a visit to a shampoo factory in Stratford-upon-Avon, I was given an insight into some of the difficulties companies face with the current rules.
Denys Shortt, chief executive of DCS Europe, said some local business meetings were entirely consumed by hours of discussion about planning.
He would like to see a maximum of seven weeks between a planning application and a final decision. Mr Shortt also wants those projects that will lead to jobs being created being given preference.
"There are so many businesses struggling to get things away," he said. "Planning is the number one issue for us."
But a countryside campaigner warned of the risks of removing too many restrictions.
Pointing to the site of one proposed development, Gerald Kells, from the Campaign to Protect Rural England, said: "The worry is we see a weak policy that allows building out onto green fields like these and doesn't protect them."
Almost everyone accepts planning restrictions are sometimes required, that it cannot simply be a free-for-all. There is widespread agreement too that the current system is too slow and complicated.
As Shakespeare wrote: "Brevity is the soul of wit."
But, a building can remain "forever and a day".