Cash for Cameron: Murdoch's glee?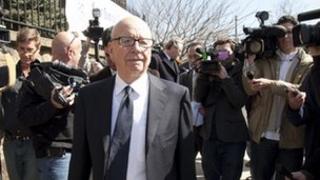 Hell hath no fury like a media mogul scorned.
Witness Rupert Murdoch's tweet: "@rupertmurdoch: Of course there must be a full independent inquiry on both sides. In great detail, and with consequences. Trust must be established."
And the Sun's editorial which says: "Millions will wonder if Osborne scrapped the 50p rate after a few cosy lunches with millionaire backers."
Could it be that Rupert Murdoch wishes to see the man who set up the Leveson Inquiry go through the same agonisingly painful scrutiny as he has?
And why not, many will ask, after the extraordinary video of the Tory co-treasurer offering to sell access to the prime minister's private dinner table and his policy unit. Shouldn't we be told which donors the PM has meetings and dinners with?
Number 10 are for now sticking to the line that what happens in David Cameron's private flat is, well, private. However, they must know that it is very hard to explain the distinction between what happens downstairs on official business and upstairs on private business. So, the pressure will mount, particularly as Mr Cameron himself has said that transparency "is the best disinfectant".
We are already told who gives money to political parties, but what access they get in return is not published. On the Today programme this morning Cabinet Office minister Francis Maude confirmed what the Conservative website advertises - that you can pay to have dinner with the PM by spending £50,000 to join the Leader's Group.
Labour has a rather more modest "Thousand Club", but Tony Blair's former fundraiser Lord Levy made clear that he invited the PM to dinners for big donors held "at private homes". These events are not and were not listed in the list of the prime minister's official engagements.
Some will assume that the only reason the Tories will not publish a full list of who their leader has met is because they have something to hide. We shall see.
There is, though, one other reason - a worry about where transparency will stop.
Downing Street already publishes the once secret, via the backdoor, meetings with Mr Murdoch and other senior media folk. If they now add donors David Cameron may worry that the list could be extended to people with other interests to lobby for - after all, don't doctors and teachers have interests which they argue for, or people with foreign passports, or cheerleaders for particular causes?
Should the names of family members and friends be published too in case they are privately arguing for this or that policy?
When the public loses trust in institutions they tend to demand a revelation of all the facts.
MPs found that to their cost after the expenses scandal. Rupert Murdoch is living with the consequences of the phone hacking scandal.
David Cameron may wish to protect his privacy, but I suspect that the lasting legacy of the "bluster" of the former co-treasurer, Peter Cruddas, will be that we will end up being told who the prime minister has dinner with - perhaps even in his own flat.