Alcohol pricing strategy 'cover' for Budget, says Labour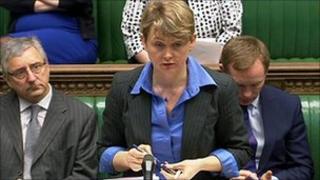 Labour has accused the government of using an announcement about alcohol pricing as "cover" to distract from media criticism of the Budget.
Yvette Cooper said Home Secretary Theresa May was being used as a "human shield" by the chancellor and PM.
She claimed the announcement was only the fourth in 10 years on a Friday.
Mrs May dismissed it as "bluster and political point scoring". Downing Street said the statement was brought forward to get it out before recess.
On Friday the government announced it was proposing a minimum price of 40p per unit of alcohol in England and Wales - as it published itsalcohol strategy.
Friday is usually a quiet day in the Commons when many MPs return to their constituencies.
Shadow home secretary Ms Cooper said she had had to cancel a meeting with students in Pontefract at short notice to attend.
She told MPs: "There's no precedent for handling a long-awaited consultation document on a Friday morning with no notice in this way.
"Over the last 10 years there have been only three government statements on a Friday; on the Iraq war, on swine flu and on Libya. All of them involving serious issues around national emergencies. What is the national emergency today?"
She added: "The only emergency is the prime minister and the chancellor have gone wobbly over the coverage of their Budget."
'Rushed out'
Chancellor George Osborne announced controversial measures in his Budget on Wednesday to cut the top rate of income tax paid by high earners and to equalise pensioners' tax-free allowance with that of the under-65s.
The tax-free allowance for people of working age is to rise again by £1,100 to £9,205 next year - but it will still be slightly lower than the current £10,500 allowance for many over-65s.
Mr Osborne hailed it as the "biggest tax cut for a generation" for working people but much of the coverage focused on his decision to freeze the over-65s allowance, which was dubbed a "granny tax" in the media.
Ms Cooper said the drinks announcement had been "rushed out": "The home secretary is being used as a human shield for the chancellor and the prime minister and she should have said 'no'."
She agreed alcohol abuse was a serious issue which should not be ignored and said she agreed it was "the right time to try minimum pricing" - although some serious questions needed to be asked, including about safeguards for pubs.
She told Mrs May the announcement was being used "as a cover for their chaotic confusion over their dreadful Budget".
Mrs May dismissed the comments as the "usual response... bluster and political point scoring".
She said Labour should apologise for the "disaster" of its Licensing Act - which allowed pubs to apply for licences to open for up to 24 hours in England and Wales - and for an election text message in 2001 saying the party "couldn't give a XXXX for closing time".
She said she had "deciphered from [Ms Cooper's] bluster" that Labour supported what the government was doing and said Ms Cooper should be more frank about her party's record on alcohol.
"We were promised under Labour's Licensing Act 2003 a European-style cafe culture. Nothing could be further from the truth in many of our town centres on a Friday and Saturday night and it's law-abiding citizens who are actually suffering as a result of that," Mrs May said.
Labour MP Keith Vaz, the chairman of the home affairs committee, told the BBC his committee had been looking into the issue for four years but he only found out about the announcement 30 minutes before it was made and was unable to attend.
He said he supported the proposals but the timing "was wrong" as many MPs were not able to attend and it "should have been in prime time on Monday or Tuesday."
But a Downing Street spokesman said: "We always said we would publish our alcohol strategy and the intention was to publish before Parliament rises for recess [on Tuesday]. Government announcements do move around for very valid reasons."