Budget 2012: MPs promise to fight 'pasty tax'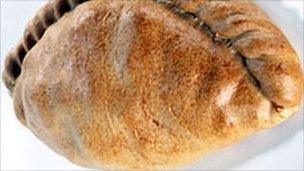 The plight of the humble pasty has been raised in the House of Commons after the chancellor announced plans to slap VAT on the snack.
Mid Cornwall MP Stephen Gilbert said the pasty was "a staple, hearty meal" which brought millions of pounds into his county and must be protected.
His colleague Andrew George said those in Cornwall would "be fighting them on the beaches" to block any "pasty tax".
Ministers say all food sold "above ambient temperature" should carry VAT.
VAT, currently at 20%, is not charged on most food and drink - such are described as zero-rated.
It is payable on takeaway food sold to be eaten hot, but baked goods which are put on display warm and subsequently cool down are also zero-rated.
The government says some retailers and bakeries have argued their food is sold hot to improve its appearance, or to comply with health and safety regulations - not for consumption that way - and therefore should not attract VAT.
If the new rules are passed, all food sold at "above ambient temperature" will attract VAT - although the definition of that temperature has not so far been made clear.
Bread would remain zero-rated - even if it is still warm when placed on shop shelves.
Bakery chain Greggs has said it will make "strong representations" about the plan and did not believe its "freshly baked savoury products" should be included. Its shares fell by 5% on Thursday, wiping £30 million off their value.
During a debate on the Budget, Mr Gilbert, Lib Dem MP for St Austell and Newquay, said the issue was "exercising my countrymen in Cornwall".
Addressing Business Secretary Vince Cable, he said: "There is some ambiguity about whether the increase to 20% in VAT on hot food will include pasties that are served from bakeries.
"The minister will no doubt be aware that the pasty is not only a staple, hearty meal but, in effect, employs thousands of people and brings millions of pounds into the Cornish economy.
"Will he give some clarity on whether we can avoid a pasty tax?"
Fellow Lib Dem and St Ives MP Mr George said: "On the sublimely fundamental and seriously important issue of pasty taxes in Cornwall, let me reassure the honourable gentleman that we will be fighting them on the beaches."
Mike Hollings, of the National Association of Master Bakers, has said rules based on the temperature of a product would "cause so much confusion".
Labour, meanwhile, has called the plan a "stealth tax on middle and lower income families" which "will increase the cost of a haircut, a bacon sandwich, a sausage roll, or a caravan holiday".
Mr Osborne also announced plans to charge VAT on sports nutrition drinks, self-storage, hairdressing facilities and holiday caravans.
Labour MP Diana Johnson said the change would have a major impact in her Hull constituency because the region manufactures a large proportion of caravans made in the UK.
"I understand it could almost reduce demand by 30%, another hammer blow," she said.
Related Internet Links
The BBC is not responsible for the content of external sites.