Tea and statistics: Digesting Budget 2012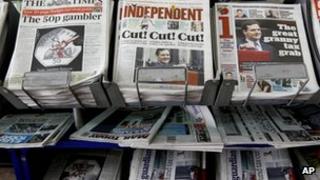 It might not be a tradition as old as the chancellor waving his red box on the steps of 11 Downing Street - but it feels like it could be.
The army of analysts that make up the big-brained world of the think tanks crank into overdrive the moment George Osborne's address to the Commons is finished.
They specialise in multisyllabic jargon, baffling graphs and acronyms that defy pronunciation.
But their verdicts matter - in shaping what Westminster types like to call "the narrative" around a Budget in the days and weeks after it has been delivered.
Or, in plain English, what people make of it.
'Hunky dory it ain't'
So, what were their verdicts? I've been on a tour to find out.
First stop, the Institute of Economic Affairs and the Taxpayers' Alliance. They are broadly on the right, advocating free market solutions and low taxes.
I am handed a cup of "royal wedding commemorative blend" tea and secretly hope it will boost my brain cells.
There is plenty of laughter, but it is gallows humour.
The overriding message is that the country's finances are precarious at best, the cuts have barely started and they are going to last for a long time yet. Well beyond the next general election, expected in 2015.
Ruth Lea, from the Arbuthnot Banking Group, repeatedly suggests caution when looking at economic forecasts - wherever they come from. There is, in her words, plenty of "creative statistical accounting" going on, and there always has been.
The cuts in government spending are, to lapse into Westminster vernacular, "back-end loaded". In other words, they have not happened yet.
"Hunky dory, it ain't!" she adds, with a wry smile.
Dr Andrew Lilico, a director and principal of Europe Economics, reminds us of the big international factors that the government has little, if any, control over and that could cause further problems.
Child benefit
The eurozone. The price of oil. Instability in the Middle East, such as in Syria and Iran. The state of the US economy. Cheery stuff.
Professor Philip Booth, from the Institute of Economic Affairs, adds: "This is the best Budget in the last 15 years - though that is a very low hurdle."
But he suggests its very existence is questionable: "I'd abolish the annual Budget. It's a terrible idea. It creates policy uncertainty and it's bad for business. And it concentrates power in the Treasury."
He is sceptical about the changes to entitlement to child benefit - George Osborne announced that it would only be withdrawn entirely from those households where one partner earns more than £60,000 a year.
The benefit will be withdrawn gradually where one parent earns more than £50,000. Prof Booth said this would put some people earning between £50,000 and £60,000 off looking for extra work or more pay.
The government's approach to new infrastructure was "schizophrenic". Ministers, he said, "want more infrastructure but not in the very place where it is demanded, at Heathrow airport, which has the misfortune to find itself in the midst of some marginal constituencies."
'Granny tax'
Next stop, the Institute of Fiscal Studies.
The IFS is regarded as the doyen of Budget analysis. Their verdict makes headlines.
A sea of suited middle-aged blokes -and it was mainly men - met, rather incongruously, at the students' union of the University of London.
Time, yet again, to watch the projector being fired up, don a name tag and make polite conversation about Laffer curves and marginal tax rates.
The main conclusions? The so-called "granny tax" is a "relatively modest increase" for a group that have lost considerably less from recent tax and benefit changes than others.
If you listened carefully, you could hear the sighs of relief in the Treasury.
Matthew Sinclair, from the Taxpayers' Alliance, had said earlier that yes, many of the baby boomers had done rather well, but right now for some, times were tough. Savings were being eroded by inflation, bills were high, and now their tax relief was being cut.
The other striking observation from the IFS was about the 40p rate of income tax. The threshold for this tax rate is coming down to £41,450 from next year.
It will mean, they calculate, that the number paying it could rise from 3.7m last year to 5m by 2014. Or 15% of those in work. It was just 5% in the 1980s.
Rough finances
The IFS pose an intriguing question for the chancellor: what proportion of people should pay it?
And so to the Work Foundation, to complete a hat-trick of think tank visits.
Labour MP Adrian Bailey, who chairs the Commons business committee, said George Osborne's original claim to be putting "fuel in the tank of the British economy" rang rather hollow now.
He was not convinced a cut in corporation tax would help promote inward investment either. Earlier in the day, others had enthused about the cut, saying it would help create jobs and boost pay.
Richard Woolhouse, from business organisation the CBI, was more positive. Multinationals were already "more favourably disposed to investing in the UK," and cutting the top rate of income tax from 50p to 45p would help further, he said.
Charles Levy, from the Work Foundation, returned to the theme that had dominated the day's analysis.
To put in it in ordinary language, the national finances are pretty rough, and they are going to be for a while.
My tour of the brain busting seminars complete, I think I need a lie down.