Osborne made 'unjustified attack' on EU habitat rules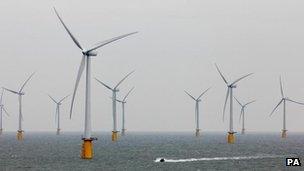 George Osborne has been accused of an "unjustified attack" on EU rules to protect wildlife after a Defra review found they were mostly "working well".
Last year, the chancellor suggested they were placing "ridiculous costs" on British firms wanting to develop.
ButDefra saidthat while there were delays in some planning applications, "the Habitats and Wild Birds Directives may only be one contributory factor".
Environmental groups said Mr Osborne's comments had "no factual basis".
The Habitats and Wild Birds Directives are designed to protect Europe's most threatened areas and species.
In his Autumn Statement last November, the chancellor said the government would "make sure that gold-plating of EU rules on things like habitats aren't placing ridiculous costs on British businesses".
He said he was worried about "the combined impact of the green policies adopted not just in Britain, but also by the European Union", adding: "If we burden [British businesses] with endless social and environmental goals - however worthy in their own right - then not only will we not achieve those goals, but the businesses will fail, jobs will be lost, and our country will be poorer."
The subsequent review, however, found that government body Natural England had objected to fewer than 0.5% of the 26,500 consultations on development it received each year on the grounds of habitat protection.
"Most of these objections are successfully dealt with at the planning stage," the report said.
The review did conclude that some cases encountered delays, and suggested ways of improving the way the habitat directives were implemented to ensure they were not a factor.
It said there was scope to simplify the guidance, legislation and authorisation process for developments, and to improve the way statutory bodies worked with developers.
And it found there were particular challenges for offshore wind farms. It highlighted the approach to wind farms in Germany, where it said early designation of protected marine sites had helped provide certainty to the renewables industry about where they were able to build.
Following the review, Defra said it would create a new cross-government unit to help large, important infrastructure projects get off the ground without unnecessary delays and costs.
Environment Secretary Caroline Spelman said: "The action we are taking will make it clearer for developers to understand how to comply with the directive and will ensure that our wildlife still receives the high level of protection it deserves.
"This in turn allows genuine green growth, boosting our economy whilst looking after the environment."
Carol Day, solicitor at WWF UK, said the organisation was pleased Ms Spelman had "stood her ground and strongly defended the principles and purpose of these directives".
"In his Autumn Statement George Osborne issued an unjustified attack on the European laws protecting our most precious species and habitats," she said.
"Not only were his claims that environmental regulations are a burden on business unhelpful, they were completely wrong."
Martin Harper, conservation director at the RSPB, said "no evidence" was found to back up Mr Osborne's suggestion.
"The government's own review has shown that these comments were misleading rhetoric, with no factual basis," he added.
Related Internet Links
The BBC is not responsible for the content of external sites.