Budget 2012: George Osborne 'not a top rate taxpayer'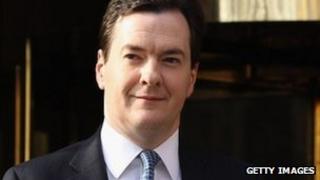 Chancellor George Osborne has told the BBC he is not a top rate taxpayer so will not benefit from his own Budget policy for the highest earners.
He said he was "not a big winner from this Budget", and was "trying to think about what's right for the country".
From April 2013, the 50p rate of income tax on earnings over £150,000 will be cut to 45p.
Mr Osborne's ministerial salary is £134,565. He is also the heir to the Osborne and Little wallpaper fortune.
Shadow leader of the House of Commons, Angela Eagle, told MPs "the hunt is on" for the chancellor's accountant "who'll find himself in spectacular demand".
Labour have called the chancellor's plans "a millionaires' Budget that squeezes the middle" while giving those who earn the most a tax cut.
'Hands up'
In his response in the House of Commons on Wednesday, Labour leader Ed Miliband challenged cabinet members to raise their hands if they would personally benefit from cutting the 50p tax rate.
Quoting one of the government's mantras on transparency, he said: "Sunlight is the best disinfectant.
"Just nod if you're going to benefit from it, or shake your head if you're not. Come on, we've got plenty of time."
In an interview with BBC Radio 4's Today programme, Mr Osborne was asked how much he would benefit from the top rate change.
"My salary is less than the £150,000 threshold - that's the cabinet ministers' salary," he said.
"Indeed, we cut the cabinet ministers' salary when we came to office so I'm not personally affected."
He was then asked whether he had other income which took him over the threshold, to which he replied: "I am not a big winner from this Budget."
Asked if he was a 50p tax rate payer, he added: "I'm not actually, no.
"My salary is less than the 50p rate but I'm not thinking about that. I'm trying to think about what's right for the country."
Shareholder
In the register of member's interests, Mr Osborne declares rental income from a property in London and shareholdings in Osborne and Little.
According to its published accounts, the company made a pre-tax loss in 2010-11 and paid no dividends to shareholders.
Downing Street has refused to confirm whether the prime minister pays the top rate of tax.
Asked if David Cameron would benefit from the decision to lower it, his official spokesman said: "His salary is a matter of public record.
"That's true of all government ministers and some government employees and we never talk about ministers' tax arrangements."
He confirmed the PM's salary is £142,500.