Queen and Duke in parliamentary lift surprise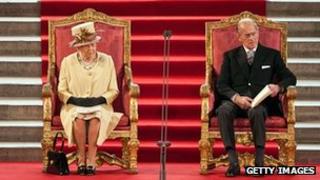 The Queen had a longer than expected trip in a lift following her speech in Parliament, the BBC has learned.
She and the Duke of Edinburgh had just attended a reception on the first floor of the Palace of Westminister before they entered the lift to get to the ground floor, where a car was waiting.
However, rather than descending, it went up and only reached the intended destination after three false starts.
Both the House of Lords and Buckingham Palace refused to comment.
The Queen's address to both Houses of Parliament was made to commemorate her Diamond Jubilee.
She later went to a reception of peers and MPs.
After leaving she, the Duke and Black Rod - a parliamentary official - boarded the Sovereign's Lift.
According to sources in the Lords, instead of going down, it went up one floor. The doors opened, revealing the royal party to a somewhat surprised peer who was waiting for it to arrive.
The doors then closed - and it went up again - this time to the third floor, where the parliamentary archives are located.
Finally the lift descended, but only as far as the floor where the Queen had originally boarded it.
After three false starts, she was taken down to the ground floor, where she and the Duke were able to get out.