MP urges change in powered wheelchair law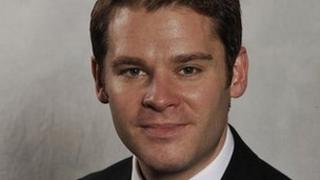 The government is being urged to alter the law so that children under 14 can use heavier motorised wheelchairs.
Currently any chair weighing more than 150kg is classified as a car.
But Conservative MP Aidan Burley argued that advances in technology mean chairs for the most severely disabled had become heavier, as they contained more devices to enable better mobility.
During a Commons debate he called for the limit to rise to 200kg and for the minimum age rule to be removed.
His 10-minute rule bill was accepted by MPs without a vote taking place. This means it could go on to further consideration, although its only hope of becoming law is if the government adopts it.
Mr Burley, who represents Cannock Chase in Staffordshire, said the 1988 Road Traffic Act, under which the current regulations are set out, was "out of date".
He wants the law on "Class 3" wheelchairs, the type used by people with the most severe disabilities and holding the most equipment, to be changed.
At the moment it is illegal for people under the age of 14 to use them.
Meanwhile any wheelchair weighing more than 150kg is classified as a car and, therefore, only to be driven by people over the age of 17 who hold a driving licence.
'Very arbitrary'
Mr Burley told the BBC: "The modern chairs have moved on massively in the past few years. They have more grip, robust tyres and facilities like oxygen chambers and better movement.
"As a consequence they've become heavier, pushing many of them above 150kg, and meaning that kids can't use them.
"That's why I want the limit to be raised to 200kg and for the age limit to go on Class 3 wheelchairs."
He added: "The age limit is very arbitrary. It's not fair that a 13-and-a-half-year-old with a degenerative disease can't have the level of freedom that the chair would provide.
"These are the most disabled children, the ones with great breathing difficulties. A lot of these children are going to die soon and this is about trying to make their last years, or even months, as comfortable as possible."
The government recently raised the maximum weight for Class 2 wheelchairs - for those who do not have the most severe disabilities but still need some motorisation of the chair - from 110 kg to 150 kg.
Ten-minute rule bills do not normally result in a change in government policy, but Mr Burley said he was hopeful of an alteration in the law for Class 3 chairs, as transport minister Norman Baker and Maria Miller, minister for disabled people, had attended the debate.
The disabled children's charity Newlife, based in Mr Burley's constituency, is also calling for a change in the law.
The MP said: "Some organisations, such as health providers, are using the current law in an attempt to save money by not providing children with the best chairs.
"But charities such as Newlife, who want to help and aren't using public money, are being denied the chance to do so. This has to change."